Hot stone massage is a luxurious and indulgent form of bodywork practised for centuries. It's a holistic approach to massage therapy designed to restore balance and promote relaxation through smooth, heated stones. These stones are strategically placed on the body, and the therapist uses them to apply pressure and manipulate the muscles.
Hot stone massage is not only deeply relaxing but therapeutic as well. It's a unique combination of heat and touch that helps to alleviate tension, reduce stress, and calm the mind. The stones' warmth penetrates deep into the muscle tissue, increasing circulation and promoting healing. Indulging in a hot stone massage offers a therapeutic journey to relaxation, promoting total health and fitness.
Many people who have experienced hot stone massage describe it as a transformative journey that takes them to a place of deep relaxation and inner peace. This type of massage therapy has also been shown to relieve conditions such as fibromyalgia, arthritis, and chronic pain.
Benefits of hot stone massage
Hot stone massage is a therapeutic technique that uses smooth, heated stones to warm and relax muscles, promoting deeper relaxation and reducing tension. The heat from the stones penetrates the muscles, helping to improve circulation, reduce inflammation, and encourage the body's natural healing process. The stones used in a hot stone massage are typically made of basalt, a type of volcanic rock that retains heat well. The therapist places the stones on the body's key points or uses them as an extension of their hands to massage the muscles. This technique promotes a sense of calm and tranquillity, reduces stress and anxiety, and helps to improve overall emotional well-being.
Those suffering from insomnia, anxiety, or chronic pain may benefit the most from a hot stone massage, as it can lead to better sleep quality and reduce pain medication. Additionally, hot stone massage has been found to positively affect the immune system, helping to boost the body's ability to fight illnesses and infections. Overall, hot stone massage is a therapeutic journey to relaxation and a great way to improve physical and emotional wellness.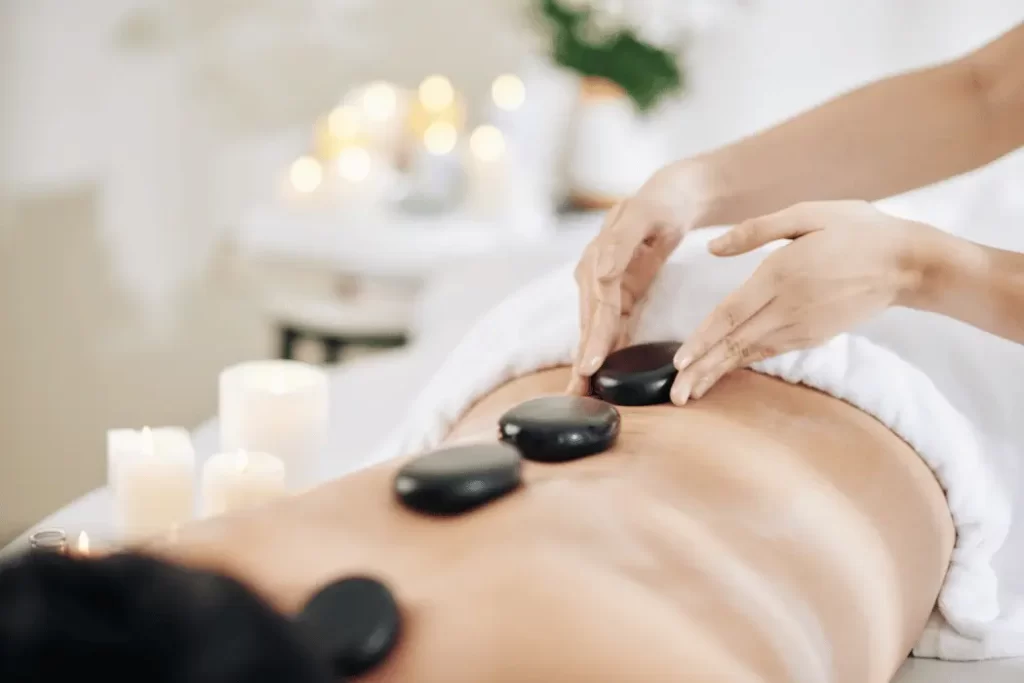 Preparation for Treatment
Preparation for treatment is an essential aspect of hot stone massage therapy, as it lays the foundation for a successful and enjoyable treatment session for the client. The preparation involves several components, including ensuring the massage room is properly set up with appropriate lighting, music, and temperature to create a relaxing atmosphere. It is also important to set up the hot stone equipment, including the heater and the stones, and ensure they are clean and sanitized to prevent the spread of germs or infections.
In addition, the client's medical history and current health status must be assessed to determine if hot stone massage therapy is appropriate for them. This includes identifying contraindications or precautions that may impact the treatment or outcome. By thoroughly preparing for the treatment, the therapist can ensure the client receives optimal benefits and the best possible experience with hot stone massage therapy.
Read more about Asian Massage Therapy.
Techniques used during the massage
During a hot stone massage, various techniques are used to create an optimal therapeutic experience for the client. Traditional massage techniques, such as effleurage and petrissage, are employed to warm up the muscles and prepare them for deeper work. The hot stones are then introduced as an additional relaxation and tension-relief tool. Under the guidance of a trained therapist, the stones are placed strategically on the body at key points to promote healing and relieve muscle tension.
Hot stone massage also involves controlled pressure and movement along with the heated stones. By using varying amounts of pressure and movement, the therapist can access deeper layers of muscle tissue and improve circulation. When combined with heated stones, these techniques create a deeply relaxing and therapeutic experience for the client.
Aftercare to maximize the experience
Aftercare is a crucial component of any hot stone massage therapy session as it helps maximise the treatment's benefits. The aftercare process focuses on assisting the client's body in returning to its natural state, reducing discomfort or soreness, and amplifying feelings of relaxation. One of the most important steps in aftercare is to remain hydrated by drinking plenty of water to help flush out any toxins that may have been released during the massage. Clients should avoid intense physical activity or exercise for at least a few hours after the massage, allowing the body to rest and recover properly.
Engaging in non-strenuous activities, such as some light stretching or relaxation techniques, can help prolong the effects of the massage and promote overall relaxation. It is also important to speak with the client about scheduling follow-up sessions to keep their muscles loose and relaxed over time. With proper aftercare, the benefits of hot stone massage can be experienced long after the session has ended, allowing clients to continue their therapeutic journey to relaxation.
Advantages of hot stone massage over other massage techniques
Hot stone massage is a unique and effective therapeutic technique that has recently gained popularity. One reason is that it offers several distinct advantages over other massage techniques. Firstly, the heat from the stones used in hot stone massage penetrates deeper into the muscles, providing a more intense and satisfying experience. As a result, clients report that their muscles feel more relaxed and the benefits of the massage last longer.
Additionally, hot stone massage can be particularly effective for those experiencing chronic pain or tension as the warmth from the stones helps to increase blood flow and reduce inflammation. Compared to other forms of massage therapy, hot stones are an efficient way to target specific trouble areas while providing a full-body relaxation experience. Furthermore, hot stone massage combines the healing properties of thermotherapy and massage, which can help enhance overall well-being by promoting relaxation, releasing stress, and improving circulation. These advantages make hot stone massage an excellent choice for individuals seeking a therapeutic journey to relaxation.
Conclusion
Hot stone massage has several physical and mental health benefits, making it an excellent choice for those needing relaxation and stress relief. It encourages blood flow, reduces inflammation, and promotes the healing of muscles and tissues. Additionally, it induces deep relaxation, reduces anxiety and improves overall well-being. So, if you need time to unwind, a hot stone massage might just be the perfect therapeutic journey for you.