Laser Genesis is a revolutionary skincare treatment that can help you achieve a radiant and youthful glow. This non-invasive procedure has gained popularity for its ability to address various skin concerns and improve overall skin texture. If you're looking to transform your skin and unleash its true potential, Laser Genesis might be the answer you've been searching for. In addition to improving the appearance and quality of your skin, Glow Up with Laser Genesis can contribute to your total health and fitness by boosting your confidence and enhancing your self-esteem.
In this article, we will explore the remarkable benefits of Laser Genesis and how it can rejuvenate your skin. We'll delve into the science behind this innovative treatment and discuss the steps involved in the procedure. Whether you're dealing with wrinkles, uneven skin tone, or enlarged pores, Laser Genesis offers a safe and effective solution.
Understanding Laser Genesis
Laser Genesis is a cutting-edge dermatological procedure that utilizes advanced laser technology to promote skin rejuvenation. This non-ablative laser treatment gently heats the upper dermis, stimulating collagen production and activating the skin's natural healing processes. Unlike more invasive procedures, Laser Genesis is gentle on the skin and requires no downtime.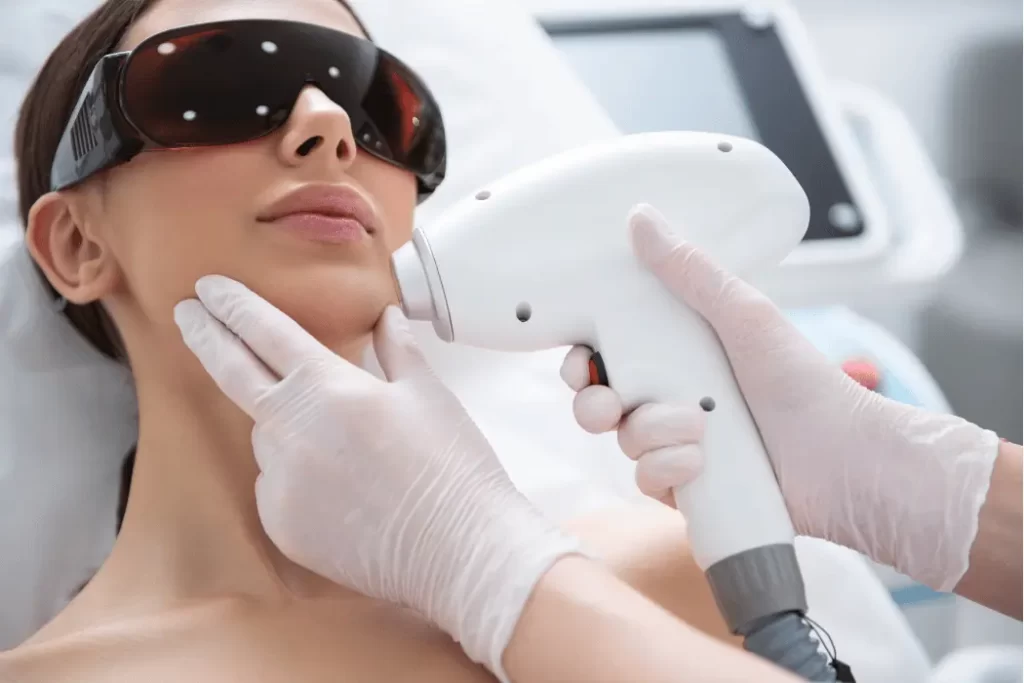 How Laser Genesis Works
a. Targeting Skin Concerns
Laser Genesis works by precisely targeting various skin concerns, including fine lines, wrinkles, redness, and uneven skin texture. The laser energy penetrates deep into the dermal layers, stimulating cellular activity and promoting collagen remodeling. This process helps improve skin elasticity, reduce the appearance of scars, and even out skin tone.
b. Stimulating Collagen
One of the key mechanisms behind Laser Genesis is its ability to stimulate collagen production. Collagen is a vital protein that provides structural support to the skin, giving it a firm and youthful appearance. As we age, collagen production naturally decreases, leading to the formation of wrinkles and sagging skin. Laser Genesis kickstarts collagen synthesis, resulting in firmer, plumper skin and a reduction in the signs of aging.
Read more about Is Coffee Good For The Skin?
Benefits of Laser Genesis
a. Improved Skin Texture
Laser Genesis is renowned for its ability to enhance skin texture. The treatment targets and reduces fine lines, acne scars, and other imperfections, resulting in smoother and more refined skin. By promoting collagen production, Laser Genesis helps to rebuild the skin's foundation, leaving it looking healthier and more youthful.
b. Reduced Wrinkles
Say goodbye to pesky wrinkles with Laser Genesis. The laser energy penetrates deep into the dermis, stimulating collagen and elastin production. This helps to diminish the appearance of fine lines and wrinkles, giving you a rejuvenated and more youthful complexion.
c. Minimized Pores
Enlarged pores can be a common skin concern, making the skin appear rough and uneven. Laser Genesis works wonders in minimizing the appearance of pores by stimulating collagen production and tightening the skin. As the treatment targets the underlying causes of enlarged pores, such as excess sebum and reduced elasticity, it helps to refine the skin's texture, giving you a smoother and more refined complexion.
The Laser Genesis Procedure
The Laser Genesis procedure typically consists of several steps to ensure optimal results and a comfortable experience. Let's walk through the process:
a. Pre-treatment
Before the treatment, you'll have a consultation with a qualified dermatologist or skincare professional. They will assess your skin, discuss your concerns and expectations, and determine if Laser Genesis is suitable for you. You may be advised to avoid certain skincare products or treatments leading up to the procedure.
b. During the Procedure
During the Laser Genesis procedure, you'll be comfortably seated in a treatment room. Protective eyewear will be provided to shield your eyes from the laser light. The skincare professional will gently glide the laser handpiece over the targeted areas of your skin. You may feel a warm sensation or a slight tingling, but the procedure is generally painless.
c. Post-treatment
After the treatment, you can resume your regular activities immediately, as there is no downtime associated with Laser Genesis. However, it's essential to follow any post-treatment instructions provided by your skincare professional. This may include applying moisturizer, avoiding direct sun exposure, and using sunscreen to protect your skin.
Safety and Side Effects
Laser Genesis is a safe procedure when performed by a trained professional. The laser technology used in this treatment is designed to target specific skin concerns without causing damage to the surrounding tissues. However, some mild and temporary side effects may occur, including redness, slight swelling, or a warm sensation in the treated area. These effects usually subside within a few hours or days.
Who Can Benefit from Laser Genesis?
Laser Genesis is suitable for individuals who are looking to improve their overall skin texture, reduce the signs of aging, minimize pores, and achieve a more youthful appearance. It is a versatile treatment that can be customized to address various skin concerns, including fine lines, wrinkles, redness, acne scars, and uneven skin tone. However, it's important to consult with a skincare professional to determine if Laser Genesis is the right option for you based on your specific skin type and condition.
Choosing a Laser Genesis Provider
When considering Laser Genesis, it's crucial to choose a reputable and experienced skincare professional or dermatologist. Look for providers who have a proven track record of performing Laser Genesis treatments and who prioritize client safety and satisfaction. Reading reviews, seeking recommendations, and asking for before-and-after photos can help you make an informed decision.
Results and Maintenance
The results of Laser Genesis are gradual and cumulative, with optimal outcomes typically achieved after multiple sessions. Depending on your individual needs, a series of treatments spaced several weeks apart may be recommended. Maintenance sessions may also be advised to help sustain the improvements achieved. Your skincare professional will create a personalized treatment plan tailored to your skin concerns and goals.
Conclusion
Laser Genesis is a revolutionary skincare treatment that can truly transform your skin and help you achieve a radiant glow. By targeting various skin concerns and stimulating collagen production, Laser Genesis offers remarkable benefits such as improved skin texture, reduced wrinkles, and minimized pores. This non-invasive procedure is safe, effective, and requires no downtime, making it a convenient choice for individuals seeking noticeable results without the need for invasive surgeries or prolonged recovery periods. To embark on your own journey of skin transformation, it is essential to consult with a qualified skincare professional or dermatologist. They will assess your skin, discuss your concerns and goals, and create a personalized treatment plan that caters to your specific needs. With Laser Genesis, you can say goodbye to dull and aging skin and embrace a renewed, youthful complexion that boosts your confidence and enhances your natural beauty.