In today's society, where beauty standards constantly change, embracing and celebrating our natural features is essential. With its ethereal glow and smooth texture, porcelain skin has captivated hearts throughout history, symbolizing purity, elegance, and grace. In this blog, we delve into the art of skincare, revealing the secrets behind achieving and maintaining porcelain skin. From skincare routines tailored to enhance your complexion to expert tips on protecting and nourishing your delicate skin, we are here to guide you on self-discovery and self-care. In addition to celebrating and embracing the beauty of your natural skin, this blog emphasizes the importance of total health and fitness in achieving and maintaining a radiant complexion. Join us as we celebrate the beauty of porcelain skin and learn to embrace and enhance your own natural radiance.
As humans, we come in diverse skin tones and types. Porcelain skin, often associated with a fair complexion, is characterized by its smooth texture, even tone, and radiant glow. While it is true that porcelain skin is often associated with fair-skinned individuals, it is important to note that people of all skin tones can have porcelain-like skin.
What is Porcelain Skin?
Porcelain skin is a term used to describe skin that appears flawless, smooth, and luminous. It has a refined texture, minimal blemishes, and an even skin tone. This skin reflects light evenly, giving it a delicate and ethereal quality. Porcelain skin is not limited to a specific ethnicity or skin tone but can be achieved by anyone with proper care and maintenance.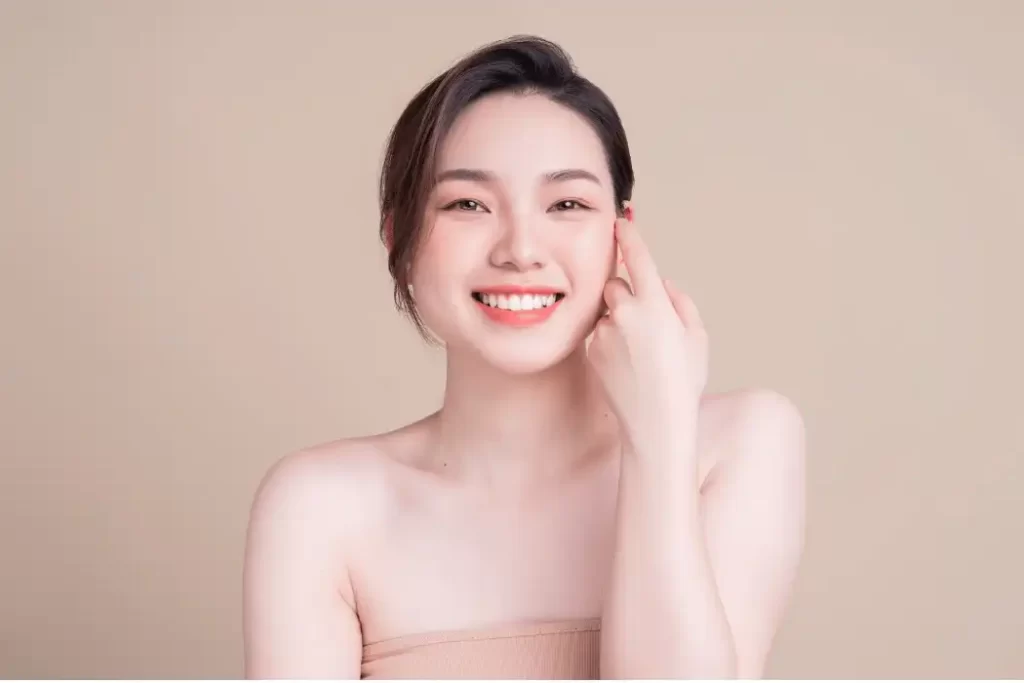 Benefits of Porcelain Skin
Having porcelain skin comes with several advantages. First and foremost, it provides a naturally youthful appearance. The smooth and radiant complexion can make you look more vibrant and fresh. Porcelain skin also has a natural luminosity that allows light to bounce off the face, creating a beautiful glow. Its even tone and texture make makeup application easier, resulting in a more flawless finish.
Read more about DIY Numbing Cream here.
Skincare Tips for Achieving Porcelain Skin
Achieving and maintaining porcelain skin requires a consistent skincare routine. Here are some essential tips to help you on your journey:
Daily Cleansing Routine
Start with a gentle cleanser that suits your skin type. Cleansing your face twice a day removes dirt, oil, and impurities, preventing clogged pores and breakouts. Look for non-drying and pH-balanced products to maintain the skin's natural moisture barrier.
Exfoliation and Moisturization
Regular exfoliation helps remove dead skin cells and promotes cell turnover, revealing smoother and brighter skin. Opt for a gentle exfoliator and use it once or twice a week. Follow up with a lightweight moisturizer to keep your skin hydrated and supple.
Sun Protection
Sun protection is crucial for maintaining porcelain skin. Use a broad-spectrum sunscreen with an SPF of 30 or higher, even on cloudy days. This shields your skin from harmful UV rays that can cause premature aging and pigmentation.
Hydration and Diet
Drinking an adequate amount of water is essential for healthy and radiant skin. Hydration from within helps flush out toxins and moisturise your skin. Additionally, a balanced diet rich in fruits, vegetables, and antioxidants can provide essential nutrients for skin health.
Avoiding Harsh Chemicals
When it comes to skincare products, opt for gentle and non-irritating formulations. Harsh chemicals can strip away the skin's natural oils and disrupt its delicate balance, leading to dryness and irritation. Look for products with natural and nourishing ingredients that promote skin health.
Makeup Tips for Enhancing Porcelain Skin
Makeup can be a powerful tool to enhance your porcelain skin and highlight its natural beauty. Here are some tips to consider:
Choosing the Right Foundation
Select a foundation that matches your skin tone perfectly. Opt for foundations with a lightweight and buildable formula for porcelain skin that provides a natural, seamless finish. Avoid heavy coverage unless necessary and focus on enhancing your skin's luminosity.
Highlighting and Contouring
Highlighting and contouring can add dimension to your facial features. Use a subtle highlighter on the high points of your face, such as the cheekbones and brow bone, to create a radiant glow. When contouring, choose a shade that is one or two shades darker than your skin tone and apply it to the hollows of your cheeks and temples for a defined look.
Blush and Lipstick Shades
For porcelain skin, soft and rosy blush shades work beautifully. Opt for light pinks or peachy tones to naturally flush your cheeks. When it comes to lipstick, choose shades that complement your skin tone. Soft pinks, corals, and berry tones can enhance your natural beauty.
Eye Makeup for Porcelain Skin
Regarding eye makeup, neutral and earthy tones can accentuate your porcelain skin. Consider shades like champagne, taupe, or soft browns for a subtle and elegant look. Adding a shimmer on the inner corners of your eyes can also brighten your overall appearance.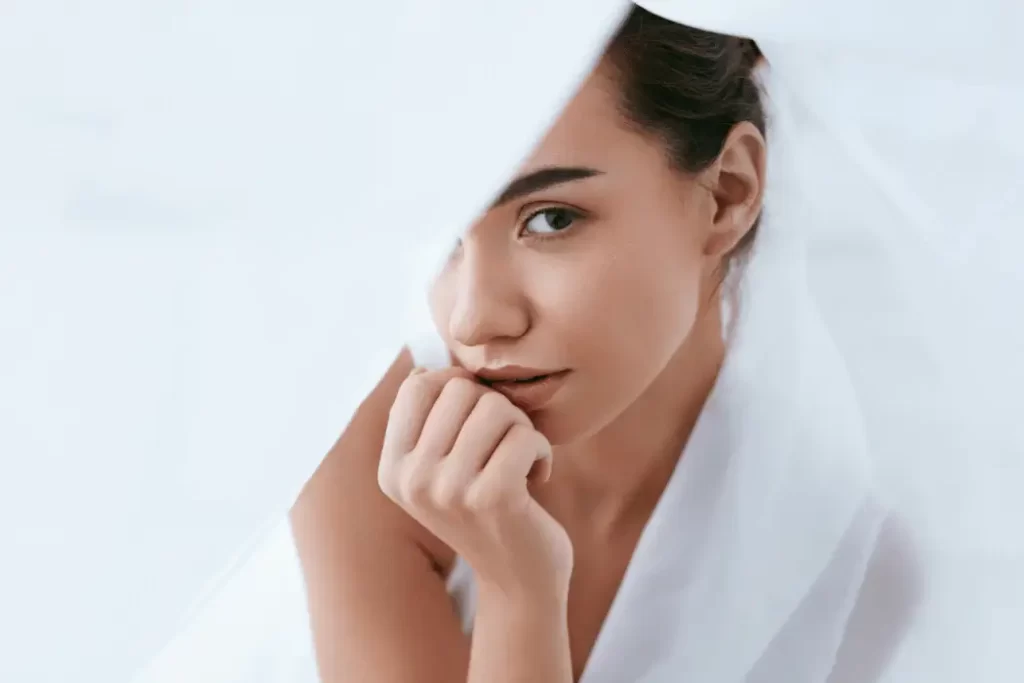 Embracing Your Natural Beauty
While porcelain skin is often admired and desired, embracing your natural beauty and individuality is essential. Here are some aspects to focus on:
Self-Acceptance and Confidence
Remember that true beauty comes from within. Embrace your unique features and cultivate self-acceptance. Confidence plays a significant role in how you perceive yourself and others. Embrace your porcelain skin as a part of your identity and let it shine.
Skincare as Self-Care
View your skincare routine as a form of self-care and self-love. Taking the time to care for your skin enhances its appearance and provides a moment of relaxation and rejuvenation. Treat your skincare routine as a pampering ritual that allows you to connect with yourself.
Emphasizing Individuality
Porcelain skin is just one aspect of your overall beauty. Emphasize other features that make you unique, such as your eyes, lips, or hairstyle. Experiment with different makeup looks and styles to find what makes you feel confident and empowered.
Common Myths about Porcelain Skin
There are some misconceptions surrounding porcelain skin. Let's debunk a few of them:
Porcelain Skin is Fragile or Sensitive
While porcelain skin may appear delicate, it is not necessarily fragile or sensitive. Porcelain skin can be resilient and healthy with proper care and a gentle skincare routine. Avoid harsh products or treatments that may cause irritation, but don't shy away from taking care of your skin.
Porcelain Skin is Only for Certain Skin Tones
Porcelain skin is often associated with fair complexions, but individuals of all skin tones can achieve it. The term "porcelain skin" refers to the texture and quality of the skin rather than a specific skin tone. People with deeper skin tones can also have porcelain-like skin that is smooth, even-toned, and radiant. It's important to embrace and celebrate diversity in beauty.
Porcelain Skin Requires Expensive Products
Achieving porcelain skin doesn't necessarily mean you have to invest in expensive skincare products. While there are high-end options available, there are also affordable alternatives that can deliver excellent results. The key is to focus on the ingredients and formulation rather than the price tag. Look for products that contain hydrating ingredients, antioxidants, and gentle exfoliants to maintain the health and appearance of your skin.
Conclusion
As we end our journey exploring the world of porcelain skin and embracing its natural beauty, we hope you have gained a newfound appreciation for your unique complexion. Remember, porcelain skin is not a standard of perfection but a reflection of the beauty that lies within you. It's a canvas that tells the story of your life, experiences, and individuality. Embracing your porcelain skin is about embracing yourself wholly, flaws and all, and recognizing that true beauty transcends societal expectations. Let your porcelain skin radiate with confidence and authenticity, and may inspire others to embrace their natural beauty. Thank you for joining us on this empowering quest, and may your journey to self-acceptance and self-love continue to flourish.