In today's fast-paced and stressful world, finding ways to unwind and rejuvenate our minds and bodies is essential for maintaining a healthy lifestyle. One method that has gained popularity in recent years is dry sauna therapy. This age-old practice offers a multitude of benefits, from promoting relaxation and stress relief to detoxifying the body and improving cardiovascular health. Dry sauna therapy is a holistic approach to total health and fitness, rejuvenating both the mind and body. In this article, we will delve into the world of dry sauna therapy, exploring its benefits, the science behind it, and how to incorporate it into your wellness routine.
Understanding the Benefits of Dry Sauna Therapy
Promotes Relaxation and Stress Relief
One of the primary benefits of dry sauna therapy is its ability to induce deep relaxation and alleviate stress. As you step into the sauna and the heat envelops your body, your muscles begin to relax, and your mind starts to unwind. The warm environment stimulates the release of endorphins, often referred to as the body's natural "feel-good" chemicals, which can help reduce anxiety and improve overall mood.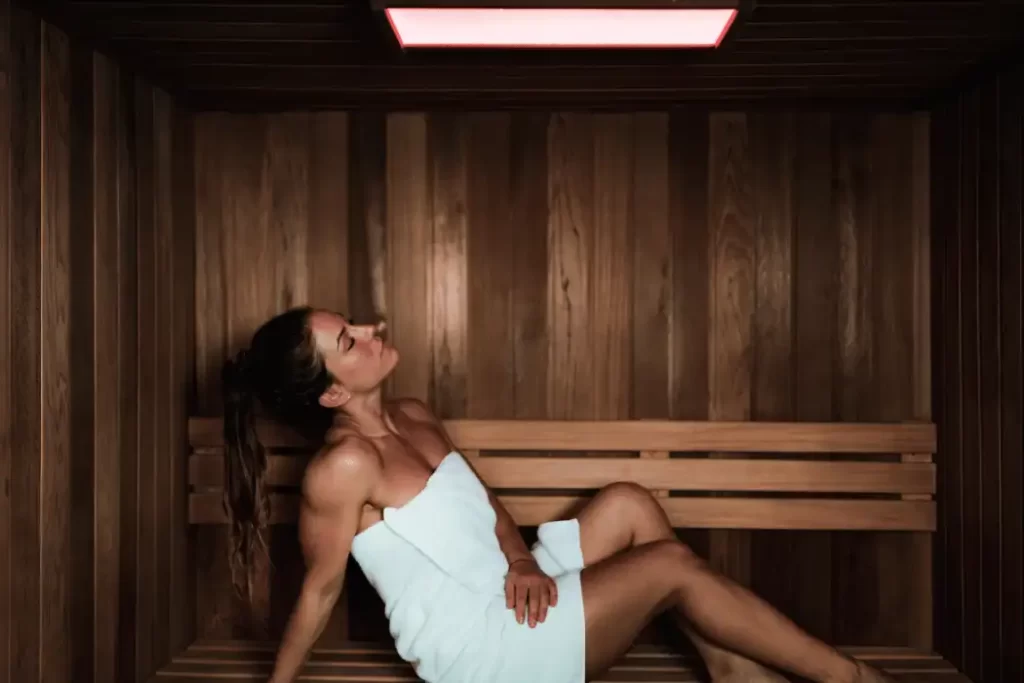 Detoxifies the Body
Another advantage of dry sauna therapy is its detoxification properties. As your body is exposed to the heat, your blood vessels dilate, promoting increased circulation. This improved blood flow helps your organs, particularly the liver and kidneys, eliminate toxins more efficiently. Additionally, sweating profusely in the sauna helps flush out impurities and unclog pores, leaving your skin feeling refreshed and rejuvenated.
Check out the Health Benefits of Sauna Bathing .
Enhances Cardiovascular Health
Regular sessions in a dry sauna can have significant benefits for your cardiovascular system. The heat causes your heart rate to increase, mimicking the effects of mild exercise. This gentle cardiovascular workout improves blood circulation, reduces blood pressure, and enhances overall cardiovascular function. As a result, dry sauna therapy can be beneficial for those with certain heart conditions, but it's always important to consult with a healthcare professional beforehand.
Boosts the Immune System
The heat generated in a dry sauna raises your body temperature, creating an artificial fever-like state. This increase in temperature stimulates the production of white blood cells, which are vital components of the immune system. White blood cells play a crucial role in fighting off infections and diseases, and by boosting their production, dry sauna therapy can enhance your immune system's ability to defend against illness.
Improves Skin Health
Dry sauna therapy can also work wonders for your skin. The heat and sweating experienced during a sauna session help open up your pores, allowing trapped dirt, oil, and impurities to be flushed out. This deep cleansing can leave your skin looking clearer, smoother, and more radiant. Additionally, the increased blood circulation and oxygenation that occur during a sauna session can promote the production of collagen, a protein that helps keep your skin supple and youthful.
How Long Should You Stay In a Sauna
Determining how long should you stay in a sauna depends on several factors, including personal preference, tolerance to heat, and overall health. Generally, it is recommended to start with shorter sessions, around 10 to 15 minutes, especially if you are new to sauna therapy. As you gradually acclimate to the heat, you can extend the duration up to a maximum of 20 minutes or as long as you feel comfortable. It's crucial to listen to your body and pay attention to any signs of discomfort or overheating. Hydration is key during sauna sessions, so remember to drink plenty of water. If you have any underlying medical conditions or concerns, it's advisable to consult with a healthcare professional for guidance on how long should you stay in a sauna based on your specific needs. Ultimately, finding the right balance and duration that works best for you ensures a safe and enjoyable sauna experience.
How Does Dry Sauna Therapy Work?
Dry sauna therapy works by heating the body through the use of infrared radiation. Unlike traditional steam saunas, which heat the air around you, dry saunas utilize infrared heaters to directly warm your body. These heaters emit infrared rays that penetrate your skin, creating a deep heat sensation.
The infrared rays penetrate the skin more deeply than traditional heat sources, which leads to an increased core body temperature. This rise in temperature triggers several physiological responses, including increased heart rate and circulation. As a result, you start to sweat profusely, allowing your body to release toxins and impurities.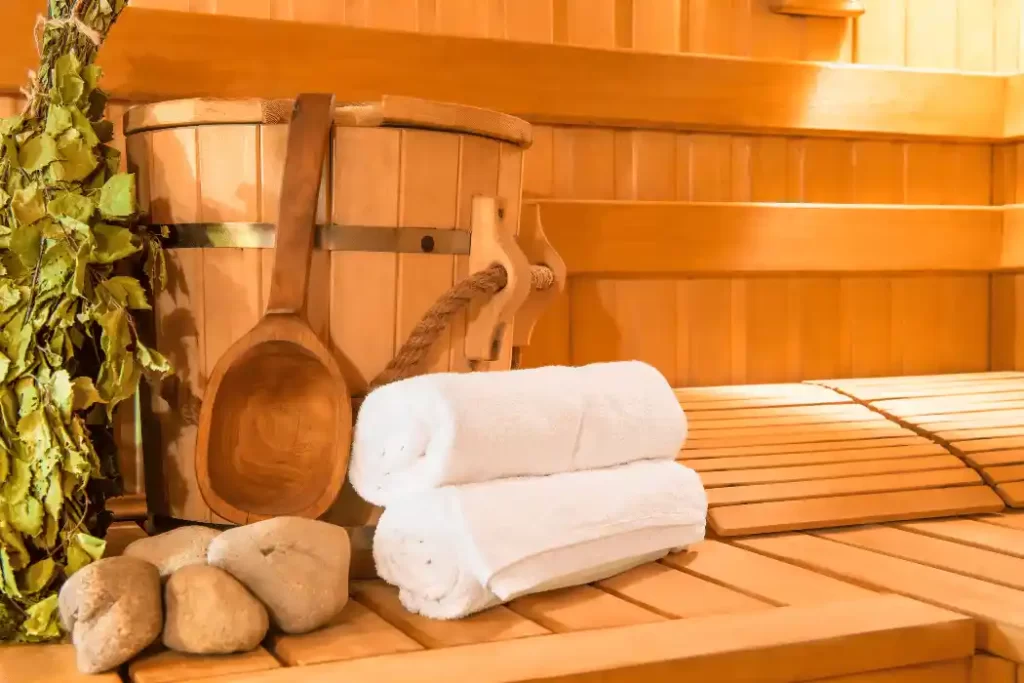 Preparing for a Dry Sauna Session
Before stepping into a dry sauna, it's important to prepare properly to ensure a safe and enjoyable experience. Here are some essential steps to follow:
Hydrating Before and After
Proper hydration is key when it comes to dry sauna therapy. Before your session, drink plenty of water to ensure that you are adequately hydrated. During and after your sauna session, continue to drink water to replenish the fluids lost through sweating. Staying hydrated not only supports your overall well-being but also helps prevent dehydration, which can occur due to the intense heat of the sauna.
Choosing the Right Temperature and Duration
When using a dry sauna, it's crucial to select an appropriate temperature and duration that suits your comfort level and health condition. Start with a lower temperature, typically between 160°F (71°C) to 180°F (82°C), and gradually increase it as you become more accustomed to the heat. As for the duration, begin with shorter sessions of around 10 to 15 minutes and slowly extend the time as your body adjusts.
Using a Towel or Seat Cover
To ensure a hygienic experience, it's recommended to use a towel or seat cover when sitting on the sauna benches. This helps prevent direct contact between your skin and the sauna surfaces, promoting cleanliness and reducing the risk of transferring bacteria.
Taking Necessary Precautions for Certain Medical Conditions
While dry sauna therapy can be beneficial for many individuals, it's important to consult with your healthcare provider if you have any underlying medical conditions. Some conditions, such as cardiovascular problems or respiratory issues, may require certain precautions or limitations when it comes to sauna use.
What to Expect During a Dry Sauna Session
As you enter a dry sauna and the heat surrounds you, several sensations and effects become noticeable. Understanding what to expect can enhance your experience and maximize the benefits. Here's an overview of what you may encounter during a dry sauna session:
The Heat Sensation and Sweating
The moment you step into the dry sauna, you'll feel the intense heat enveloping your body. Initially, this may feel somewhat challenging, but as your body adjusts, you'll start to embrace the warmth. The heat sensation can be invigorating, promoting a sense of deep relaxation and comfort.
As the temperature rises, your body responds by sweating. Sweating is a natural cooling mechanism that helps regulate body temperature. During a dry sauna session, you'll experience profuse sweating as your body eliminates toxins and releases impurities through the skin. This detoxifying process can leave you feeling refreshed and revitalized.
Relaxation and Mental Clarity
As the heat penetrates your body, it triggers a cascade of relaxation responses. The warmth helps relieve muscle tension, allowing you to unwind and release stress. Many people find dry sauna therapy to be a calming and meditative experience, providing a space for introspection and mental clarity.
Amidst the soothing environment of the dry sauna, you can let go of the outside world and focus on self-care. Whether you choose to close your eyes, practice deep breathing, or simply embrace the tranquility, the sauna session can become a sanctuary for rejuvenation of the mind.
Potential Health Risks and Precautions
While dry sauna therapy offers numerous benefits, it's important to be aware of potential risks and take necessary precautions. Here are some key points to consider:
Dehydration: Sweating excessively in the sauna can lead to dehydration. To combat this, ensure you drink plenty of water before, during, and after your session to stay adequately hydrated.
Heat exhaustion or heat stroke: Prolonged exposure to high temperatures can increase the risk of heat-related illnesses. If you start feeling lightheaded, dizzy, or experience nausea, it's crucial to leave the sauna immediately and cool down. Individuals with certain health conditions, such as low blood pressure or cardiovascular issues, should consult their doctor before using a dry sauna.
Skin sensitivity: The intense heat in the sauna can cause skin irritation or sensitivity in some individuals. If you have sensitive skin or any existing skin conditions, it's advisable to consult with a dermatologist before incorporating dry sauna therapy into your routine.
By being mindful of these risks and taking necessary precautions, you can enjoy the benefits of dry sauna therapy safely and effectively.
Aftercare and Post-Sauna Rituals
After a rejuvenating dry sauna session, it's essential to engage in aftercare and follow post-sauna rituals. These practices will help optimize your experience and support your body's recovery. Here are some post-sauna rituals to consider:
Hydrating and Replenishing Electrolytes
As mentioned earlier, sweating in the sauna leads to fluid loss. To rehydrate your body, drink plenty of water or beverages that contain electrolytes. Electrolytes are essential minerals that help maintain proper hydration and restore the body's electrolyte balance.
Cooling Down Gradually
After leaving the sauna, allow your body to cool down gradually. Avoid sudden temperature changes, as they can be uncomfortable for your body. You can sit or lie down in a cool area, relax, and let your body return to its normal temperature naturally.
Taking a Refreshing Shower
A refreshing shower after a sauna session can further enhance the rejuvenating effects. The contrast between the hot sauna and the cool water provides a revitalizing sensation for your body and mind. Here's how to make the most of your post-sauna shower:
Adjust the water temperature: Start by turning the water temperature to a cool or lukewarm setting. This will help bring down your body temperature gradually without shocking your system.
Gently cleanse your skin: Use a mild, hydrating shower gel or soap to cleanse your skin. Avoid harsh exfoliators or scrubs immediately after the sauna, as your skin may be more sensitive.
Pay attention to your scalp: The heat from the sauna can leave your scalp feeling sweaty and oily. Take the opportunity to give your hair and scalp a gentle cleanse to refresh and invigorate them.
Enjoy the moment: Let the water cascade over your body, allowing it to wash away any remaining sweat and toxins. Take a few moments to fully relax and enjoy the sensation of the water revitalizing your skin.
Resting and Recharging
After your sauna session and refreshing shower, it's important to give your body time to rest and recharge. Find a comfortable space where you can relax and allow your body to cool down completely. Take this opportunity to engage in calming activities such as reading, listening to soothing music, or practicing mindfulness.
During this resting period, your body continues to experience the benefits of the sauna session. Your muscles will further relax, and your mind will continue to enjoy a sense of tranquility. Embrace this time for self-care and allow your body to fully absorb the rejuvenating effects of the dry sauna therapy.
Conclusion
Dry sauna therapy offers a multitude of benefits for rejuvenating both the mind and body. From promoting relaxation and stress relief to detoxifying the body and enhancing cardiovascular health, regular sauna sessions can be a valuable addition to your wellness routine. By understanding the benefits, taking necessary precautions, and incorporating post-sauna rituals, you can fully optimize your experience and enjoy the revitalizing effects of dry sauna therapy.