In the world of childhood development, the quest for holistic growth is a constant endeavor. Parents and educators alike seek avenues that not only nurture physical health but also stimulate cognitive development. Amidst this pursuit, an art form stands out – ballet. Beyond the graceful movements and elegant performances, ballet offers a myriad of cognitive benefits for kids. Engaging in ballet not only fosters cognitive development in kids but also contributes to their total health and fitness, providing a holistic approach to their overall well-being. In this comprehensive guide, we delve into the enchanting world of ballet for kids and its profound impact on cognitive development in children.
The Symphony of Mind and Body
Understanding Ballet's Complexity
Ballet is more than just a dance form; it's a symphony that harmonizes the mind and body. The intricate choreography demands not only physical precision but also mental acuity. As children navigate through various steps and sequences, their brains are actively engaged in processing movements, rhythm, and spatial awareness. This cognitive workout cultivates mental agility and enhances the brain's ability to multitask effectively.
Memory and Recall Enhancement
Every ballet routine is a sequence of steps and poses that must be memorized and executed flawlessly, making it an excellent activity of Ballet for Kids. This aspect of ballet significantly contributes to memory enhancement and recall skills in children. The process of memorization reinforces neural pathways, improving both short-term and long-term memory. As young dancers commit routines to memory, they are unknowingly enhancing their cognitive capacity.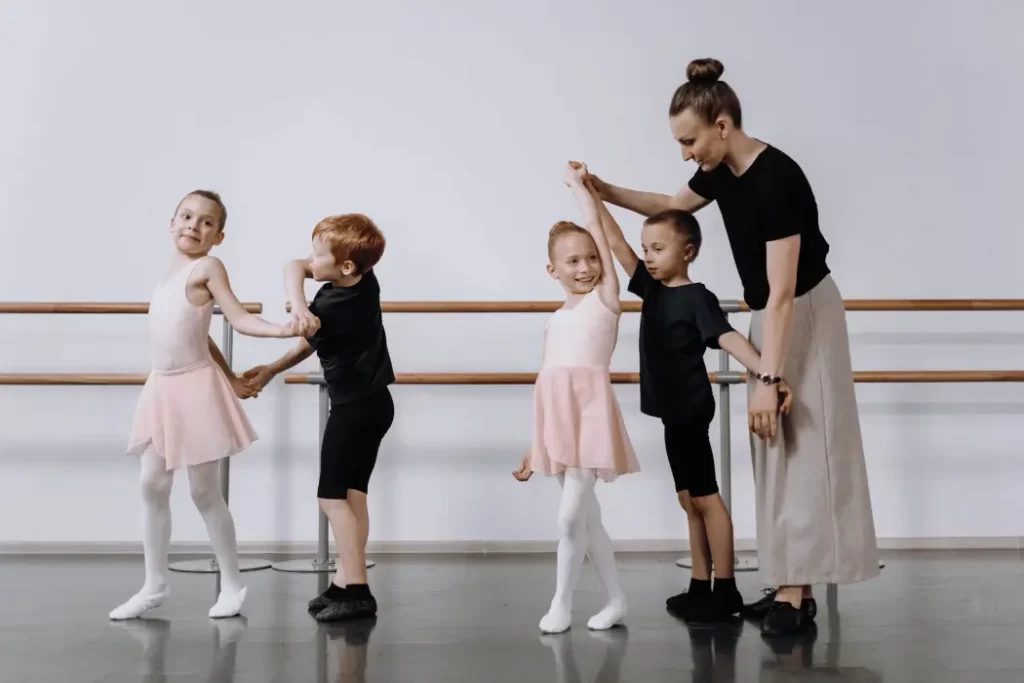 Spatial Intelligence and Creativity
Spatial Awareness Development
Ballet's emphasis on precise movements in relation to the body's orientation in space fosters the development of spatial intelligence. Children learn to understand their bodies in relation to the environment around them. This heightened spatial awareness extends beyond the dance studio, benefiting various aspects of their lives, from problem-solving to spatial reasoning tasks.
Unleashing Creative Expression
While ballet follows established techniques, it also encourages creativity within those boundaries. As children interpret movements and emotions through dance, they learn to express themselves creatively. This freedom of expression nurtures their imaginative thinking and enables them to approach challenges with innovative perspectives.
Discipline, Focus, and Self-Esteem
Cultivating Discipline
Ballet's rigorous training instills discipline from an early age. The consistent practice and commitment required for mastering ballet routines teach children the value of dedication and hard work. This discipline transcends the dance studio, positively impacting their approach to academics, extracurricular activities, and life's challenges.
Enhanced Focus and Concentration
The intricate nature of ballet demands unwavering focus. Children must concentrate on every movement, from the position of their fingers to the angle of their toes. This continuous focus sharpens their attention span and concentration abilities. The ability to immerse themselves in the present moment becomes a valuable life skill that extends to all areas of their development.
Boosting Self-Esteem and Confidence
As children master ballet techniques and witness their progress, their self-esteem and confidence receive a significant boost. The sense of accomplishment derived from overcoming physical and mental challenges fosters a positive self-image. This newfound confidence empowers children to approach new experiences with a resilient, can-do attitude.
Social Interaction and Emotional Intelligence
Building Strong Social Bonds
Ballet classes provide a unique environment for social interaction. Children learn to collaborate with peers, synchronize movements, and support each other's progress. These interactions foster the development of crucial social skills, such as teamwork, communication, and empathy.
Emotional Expression and Empathy
Dance, including ballet, is a form of emotional expression. Through ballet, children learn to convey emotions, stories, and narratives without words. This practice in emotional expression enhances their emotional intelligence, enabling them to understand and empathize with the emotions of others.
Conclusion: A Dance of Growth
Within the journey of childhood development, ballet emerges as a captivating partner for kids. Beyond the graceful movements and delicate poses lies a world of cognitive benefits that shape young minds. From memory enhancement and spatial intelligence to discipline and emotional expression, ballet is a dance of growth. It nurtures cognitive development in ways that extend far beyond the confines of the dance studio. So, embrace the world of ballet for kids and let its cognitive symphony guide your child's holistic development.