Dental health is a crucial aspect of overall well-being. Unfortunately, many people struggle with dental issues, such as cavity between teeth, that can lead to discomfort, pain, and eventually, tooth loss. If left untreated, cavities between teeth can become severe and require expensive dental procedures to fix. That's why it's essential to bridge the gap and correct dental cavities that occur in-between teeth. Proper dental care for cavity between teeth plays a vital role in bridging the gap to achieve total health and fitness, as it ensures the well-being of both your oral health and overall physical wellness. In this blog post, we will be discussing the importance of dental care for cavities, specifically focusing on those that develop between teeth. We will provide an in-depth analysis of the causes of interdental cavities, their symptoms, and how to handle them. Our article will also cover the best treatment options for this type of cavity and how to prevent interdental cavities from occurring in the first place.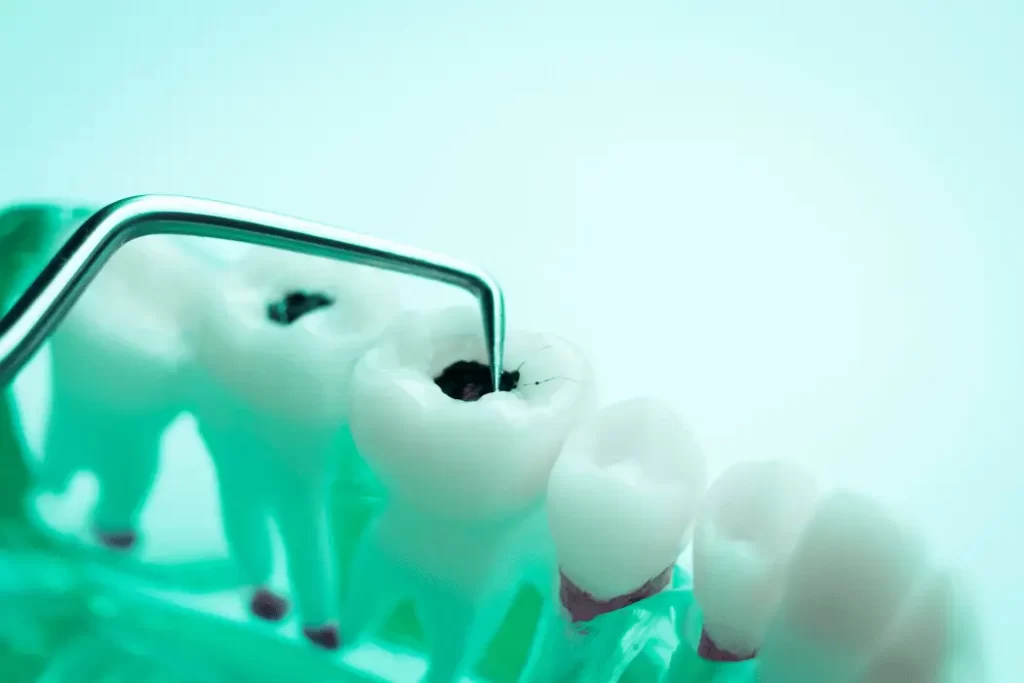 1. Types of Interdental Cleaners
If you have a cavity or any other dental issue that occurs between your teeth, it is important to implement proper interdental cleaning techniques as part of your daily oral care routine. Interdental cleaning is the practice of cleaning between the teeth using specialized tools. There are various types of interdental cleaners available that can help you maintain the health of your teeth and gums. One type of interdental cleaner is a floss pick. Floss picks have a small piece of floss stretched tightly between two prongs, which makes it easier to reach between your teeth. Another type of interdental cleaner is an interdental brush, which is a small brush that has bristles designed to clean between the teeth. Water flossers are a popular type of interdental cleaner that use water pressure to remove debris and bacteria between your teeth. By understanding the different types of interdental cleaners, you can choose the one that works best for your needs and maintain a healthy smile.
Know more about Are Teeth Bones?
2. Advantages of Early Detection
Early detection of cavity between teeth provides a number of advantages for both patients and dental professionals. The first and most significant is that early detection allows for less invasive treatment options. When cavities are detected at an early stage, patients may only require a simple filling rather than more extensive, and costly, procedures such as root canals or extractions. This is particularly significant given the fact that cavity between teeth can often go undetected until they become larger and start causing pain or discomfort. Early detection also allows for proactive measures to prevent further decay and damage, helping to preserve the affected tooth and the surrounding teeth. Additionally, early detection of dental issues can lead to better patient outcomes and decreased treatment time and costs in the long run. For these reasons, it is highly recommended that patients receive regular dental examinations to catch any dental issues early.
3. Signs of Cavity between Teeth
As part of comprehensive dental care, it is important to understand the signs of cavities between teeth. Early detection and treatment can prevent extensive damage to not only the affected teeth but also surrounding teeth and gums. The most common sign of a cavity between teeth is tooth sensitivity, especially while eating or drinking hot, cold, or sweet foods. Furthermore, you may experience discomfort or pain when biting or chewing. Dark spots or stains between the teeth can also indicate the presence of a cavity. Regular dental checkups are crucial for detecting and addressing cavities promptly. Adopting good oral hygiene practices such as daily brushing and flossing can also prevent cavities from developing in the first place. At our dental practice, we value patient education and are committed to bridging the gap between dental care and our patients' well-being.
4. Common Treatments for Cavities
When it comes to treating cavities, there are a few common approaches that dental professionals utilize. One such approach is the use of dental fillings, which involve removing the decayed portion of the tooth and filling the resulting cavity with composite resin or amalgam. Root canals are another option for more advanced cases of decay, where the pulp inside the tooth has become infected or inflamed. This involves removing the infected pulp and filling the empty space with a special material. For advanced, extensive decay that can't be repaired with a filling or root canal, dental crowns may be used to cover the damaged tooth. In some cases, extracted teeth may need to be replaced with dental implants, which involve surgically inserting a metal post into the jawbone and attaching a prosthetic tooth to the post. Dental professionals can determine the best course of treatment based on the severity and location of the cavity, as well as the unique needs of the patient. It's important to address cavities promptly to prevent further decay and maintain healthy teeth and gums.
5. Tips for Proper Dental Care
Bridging the Gap: Dental Care for Cavity Between Teeth is an essential document for maintaining optimal dental health. Dental care is an integral part of maintaining overall good health, and proper dental care can prevent a variety of dental problems. One of the crucial aspects of dental care is ensuring that the gaps between your teeth are appropriately cleaned. It is, therefore, essential to follow some tips to maintain and improve proper dental care. The following comprehensive list of five tips for proper dental care will help keep your teeth and gums healthy, cavity-free, and your smile shining brightly. These tips include brushing and flossing regularly, maintaining a healthy diet, visiting your dentist for regular check-ups and cleaning, avoiding smoking or other tobacco products, and keeping hydrated with lots of water. By following these tips, you can improve your oral health and maintain a cavity-free healthy mouth.
Conclusion
It is important to address any cavity between teeth as soon as possible to prevent further damage and potential complications. With the advancement in dentistry, there are various treatment options available to bridge the gap and restore the integrity of your teeth, including dental fillings and crowns. It is important to visit your dentist regularly for check-ups and maintenance of your oral health. By taking good care of your teeth and seeking prompt treatment for any dental issues, you can maintain a healthy and beautiful smile for years to come.