Are you seeking a nutritious alternative to dairy milk to enhance your total health and fitness? Look no further than cashew milk! Cashew milk is a delicious and creamy plant-based milk that offers a wide range of benefits for total health and fitness. In recent years, cashew milk has become a dairy milk alternative. It is made by blending cashews with water and then straining the mixture to achieve a smooth and creamy texture. Cashew milk provides a mild and slightly sweet taste and proves to be a versatile option for various culinary applications. As more individuals adopt plant-based diets and seek lactose-free alternatives, cashew milk has become appealing. This article will delve into the numerous cashew milk benefits for your overall health and fitness while providing valuable nutrition facts. So grab a glass of cashew milk, and let's explore the world of total health and fitness together!
1. Nutritional Profile: Understanding the Components of Cashew Milk
Cashew milk is not only delicious but also packed with essential nutrients. It contains healthy fats, protein, dietary fiber, vitamins, and minerals. However, it is important to note that the nutritional composition may vary depending on the brand and any added fortifications. Here is a breakdown of the typical nutritional components found in cashew milk:
Healthy fats: Cashew milk contains monounsaturated fats, which benefit heart health.
Protein: While cashew milk is not as protein-rich as dairy milk, it still provides moderate plant-based protein.
Dietary fiber: Cashew milk contains dietary fiber, which aids in digestion and promotes a healthy gut.
Vitamins and minerals: Cashew milk is a source of vitamins E, K, and various B vitamins, as well as minerals like calcium, magnesium, and phosphorus.
2. Cashew Milk Benefits: Boosts Your Well-being
Rich in Essential Nutrients
Cashew milk offers a range of essential nutrients that support overall health. The vitamins, minerals, and healthy fats present in cashew milk contribute to maintaining a balanced diet and promoting optimal bodily functions.
Heart-Healthy Properties
The monounsaturated fats in cashew milk can help reduce LDL (bad) cholesterol levels, thus promoting heart health and reducing the risk of cardiovascular diseases.
Aids in Digestion
The dietary fiber in cashew milk supports digestive health by promoting regular bowel movements and preventing constipation. It also aids in maintaining a healthy gut microbiome.
Promotes Bone Health
Cashew milk contains important minerals like calcium, magnesium, and phosphorus, vital for maintaining strong and healthy bones. Regular consumption of cashew milk can help prevent conditions such as osteoporosis.
Supports Weight Management
Compared to dairy milk, cashew milk is lower in calories and fat. It can be an excellent option for individuals aiming to manage their weight while still enjoying a creamy and satisfying beverage.
Enhances Skin and Hair Health
The vitamins and minerals found in cashew milk contribute to maintaining healthy skin and hair. The antioxidants in cashew milk also help combat free radicals, which can contribute to premature aging.
Boosts Immunity
Cashew milk contains vitamins C and E, known for their immune-boosting properties. Regular consumption of cashew milk can help strengthen the immune system and protect against illnesses.
Suitable for Lactose Intolerance and Dairy Allergies
Cashew milk is a suitable alternative for individuals with lactose intolerance or dairy allergies. It provides a creamy and satisfying option for those who cannot consume traditional dairy products.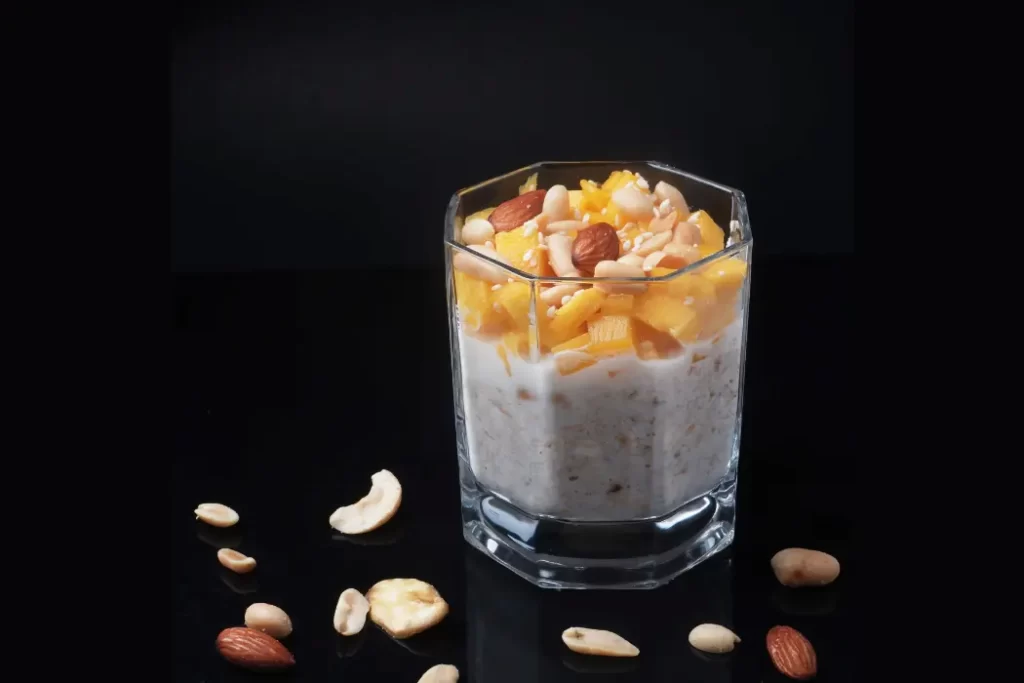 3. Incorporating Cashew Milk into Your Diet: Tips and Ideas
Enjoying Cashew Milk as a Standalone Beverage
Cashew milk can be enjoyed as a refreshing and nutritious beverage. Serve it chilled or over ice for a delightful treat.
Using Cashew Milk in Coffee and Tea
Replace dairy milk with cashew milk in your daily coffee or tea. It adds a creamy texture and a hint of nuttiness to your favorite hot beverages.
Adding Cashew Milk to Smoothies and Shakes
Boost the nutritional value of your smoothies and shakes by using cashew milk as the base. It blends well with fruits, vegetables, and other ingredients, providing a creamy and delicious consistency.
Cooking and Baking with Cashew Milk
Cashew milk can be used as a substitute for dairy milk in various recipes, including soups, sauces, and baked goods. Its creamy texture and mild flavor make it a versatile ingredient in the kitchen.
4. Potential Considerations: Who Should Be Cautious with Cashew Milk?
While cashew milk offers numerous health benefits, there are a few considerations to keep in mind:
Nut Allergies
Individuals with nut allergies should avoid cashew milk. Always check the labels and ensure there is no cross-contamination with other nuts.
Monitoring Caloric Intake
Although cashew milk is lower in calories than dairy milk, it still contains calories. If you are on a restricted-calorie diet, it is essential to factor in the calories from cashew milk.
Calcium Supplementation
While cashew milk contains calcium, it is often fortified with additional calcium to match the levels found in dairy milk. If you rely solely on cashew milk for calcium, consult a healthcare professional to ensure you meet your calcium needs.
5. Frequently Asked Questions (FAQs)
1. Is cashew milk suitable for vegans?
Yes, cashew milk is plant-based milk and is suitable for vegans as it is free from animal products.
2. Can cashew milk be used as a breastfeeding substitute?
No, cashew milk should not be used as a breast or infant formula substitute. It does not provide the necessary nutrients for infants.
3. Does cashew milk contain cholesterol?
No, cashew milk is cholesterol-free, as it is derived from plants.
4. Can cashew milk help with weight loss?
Cashew milk can be incorporated into a balanced weight loss diet due to its lower calorie and fat content than dairy milk. However, it is important to consider overall calorie intake and exercise for effective weight management.
5. Is homemade cashew milk better than store-bought?
Homemade cashew milk allows you to control the ingredients and avoid additives or sweeteners. It can be a healthier option than store-bought varieties, but both can be part of a healthy diet.
Conclusion
Cashew milk benefits encompass its versatility and nutritional value as a dairy milk alternative. It promotes heart health, aids digestion, and supports bone health, making it an invaluable addition to a balanced diet. Whether enjoyed independently, blended into beverages, or used as an ingredient in recipes, cashew milk delivers a creamy and delightful experience. Embrace the rewards of this remarkable plant-based milk by switching to cashew milk today.