Explore the fascinating world of crows and their remarkable communication abilities. Discover the secrets behind their language skills and unravel the mysteries of their intelligence. Delve into the captivating realm of crows and gain insights into their extraordinary communication abilities. Can crows talk? Find out more about these remarkable creatures and their impact on total health and fitness.
Understanding Crow Communication
Crows possess a complex communication system that involves vocalizations, gestures, and cognitive abilities. Let's explore each aspect in detail.
1. Vocalizations: Cawing and Beyond
Cawing is the most commonly recognized vocalization of crows. It serves various purposes, such as establishing territory, attracting mates, and warning others of danger. However, crows can produce a wide range of vocalizations beyond their characteristic caw. These vocalizations include rattles, clicks, coos, and even mimicry of other bird calls.
2. Gestures: Body Language in Crows
Apart from vocalizations, crows communicate through body language. They use a combination of postures, movements, and wing signals to convey different messages. For instance, a crow puffing up its feathers and crouching low may indicate aggression, while a crow hopping up and down with wings spread can signal excitement.
3. Cognitive Abilities: Problem-Solving and Tool Usage
Crows possess impressive cognitive abilities that contribute to their communication skills. They are known for their problem-solving skills and can use tools to obtain food. Crows have been observed crafting tools from twigs or modifying existing objects to achieve their goals. These abilities highlight their intelligence and adaptability.
The Complexity of Cawing
While cawing is a prominent feature of crow vocalizations, it is far from simple. Let's explore the intricacies of cawing.
1. Alarm Calls: Warning the Flock
Crows use distinct alarm calls to warn other crows of potential threats. These calls can differ depending on the type of threat, such as a predator approaching from the air or the ground. Other crows recognize these alarm calls and respond accordingly, demonstrating their ability to understand the context and urgency of the situation.
2. Vocal Repertoire: More Than Just Cawing
Contrary to popular belief, crows possess a diverse vocal repertoire. They can produce soft coos to communicate with their mates or emit rattling calls during courtship displays. Additionally, crows can mimic the calls of other bird species, showcasing their versatility in vocal communication.
3. Dialects: Regional Variations in Cawing
Studies have revealed that crows exhibit regional variations in their cawing patterns, akin to dialects in human languages. These dialects can distinguish crows from different geographical areas and may play a role in recognizing familiar individuals and group cohesion.
Non-Vocal Communication in Crows
Crows communicate not only through vocalizations but also through non-vocal means. Let's explore the various forms of non-vocal communication in crows.
1. Body Language: Postures and Movements
Crows use body language to convey specific messages to their counterparts. They can display dominance or submission through their postures and movements. For instance, a dominant crow may stand tall with its feathers sleeked, while a submissive crow might crouch low with its feathers fluffed.
2. Wing Signals: Conveying Intentions
Wing signals are an essential part of crow communication. By extending or flapping their wings in specific ways, crows can communicate their intentions to other crows. These signals can indicate aggression, courtship, or territorial boundaries, allowing for effective communication within the group.
3. Facial Expressions: Communicating Emotions
While facial expressions are more challenging to discern in birds, studies suggest that crows can convey certain emotions through their facial features. They can display signs of aggression, fear, or curiosity, enhancing their ability to communicate non-verbally.
The Cognitive World of Crows
Crows' exceptional cognitive abilities contribute significantly to their communication skills. Let's delve into their cognitive prowess.
1. Problem-Solving Skills: Intelligence in Action
Crows are renowned for their problem-solving skills. They can devise innovative strategies to access food sources, such as using tools to extract prey from hard-to-reach places. Their ability to think critically and adapt their behaviors showcases their intelligence and resourcefulness.
2. Tool Usage: Crafting Solutions
One of the most remarkable abilities of crows is their tool usage. They can fashion tools from materials like twigs or wire to solve specific problems. For instance, a crow may bend a wire into a hook to retrieve food from a narrow opening. This tool-making behavior highlights their ability to understand cause-and-effect relationships and utilize their environment to their advantage.
3. Memory and Future Planning: Crow Capabilities
Crows have excellent memory capabilities and can remember specific locations where they have found food or encountered threats. They can also engage in future planning by caching food in various locations for later consumption. These cognitive abilities contribute to their survival and success in their environments.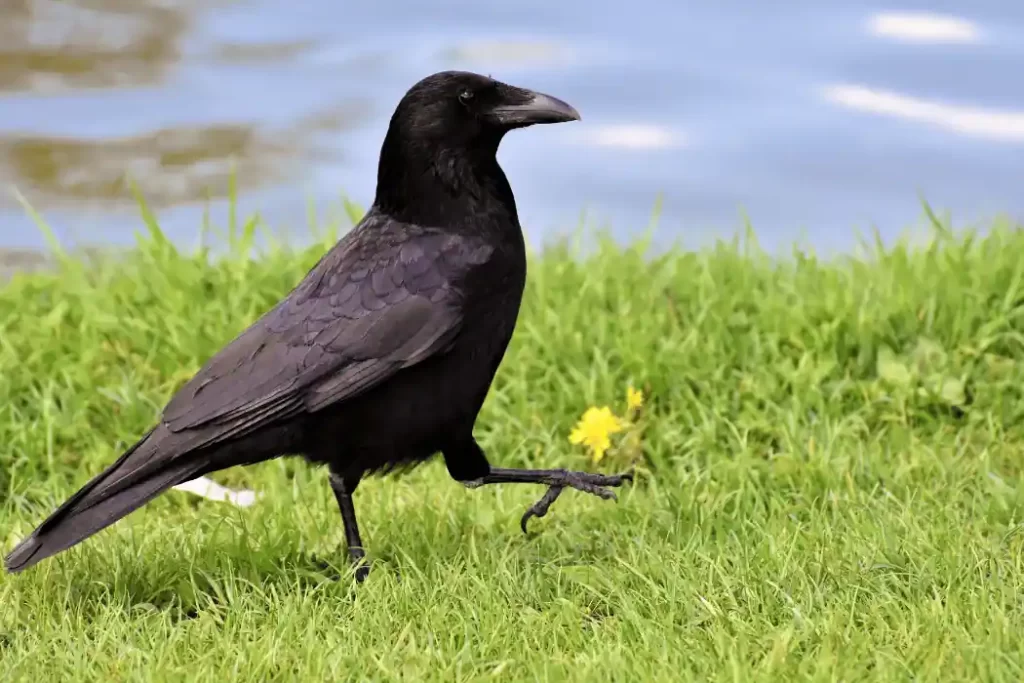 Can Crows Learn Human Language?
Crows' ability to learn human language is a topic of great interest. While they do not possess the physiological mechanisms to mimic human speech, they can learn to associate specific vocal sounds or commands with rewards or actions. This associative learning demonstrates their cognitive flexibility and capacity to understand symbolic communication.
1. Studies and Experiments: Human Interaction
Researchers have conducted studies and experiments to investigate crows' ability to learn and understand human language. These experiments often involve training crows to respond to specific vocal cues or commands. The results have shown that crows can learn to associate human words or sounds with actions and rewards, indicating their capacity for language learning.
2. Vocal Mimicry: Imitating Sounds
While crows may not mimic human speech like parrots or some songbirds, they are capable of imitating a variety of sounds, including human voices. They can mimic the sounds of other animals, objects, or even mechanical noises. This ability to mimic demonstrates their auditory acuity and versatility in vocalization.
3. Symbolic Communication: Understanding Symbols
Crows have shown the ability to understand and respond to symbolic communication. In experiments, they have been trained to associate symbols or images with specific actions or rewards. This symbolic comprehension suggests that crows possess a level of abstract thinking and can grasp the meaning behind visual representations.
The Social Dynamics of Crows
Crows are highly social birds that live in complex communities. Let's explore the social dynamics within crow populations.
1. Family Bonds: Cooperation and Care
Crows exhibit strong family bonds and engage in cooperative behaviors within their family units. They work together to build nests, defend their territories, and care for their young. The cooperative nature of crows demonstrates their ability to communicate and coordinate actions for the benefit of the group.
2. Territory and Hierarchies: Crow Communities
Crow communities establish territories and maintain social hierarchies. They use vocalizations and body language to assert their dominance or submission within the group. These hierarchical structures contribute to maintaining order and facilitating effective communication among the members of the community.
3. Learning and Teaching: Cultural Knowledge
Crows possess the ability to learn from one another and pass on cultural knowledge within their communities. They observe and imitate the behaviors of experienced individuals, acquiring valuable skills and information. This transmission of knowledge through social learning enables crows to adapt and thrive in their environments.
Conclusion
In conclusion, the communication abilities of crows are truly remarkable. Through their extensive vocalizations and complex social interactions, it becomes evident that crows possess sophisticated communication. So, can crows talk? The answer lies in their intricate language to convey information and interact with their fellow crows.