In physical therapy, regional interdependence has gained significant attention in recent years. Traditionally, therapists have focused on treating isolated injuries or specific areas of pain. However, a growing body of evidence suggests that the human body is a complex system where dysfunction in one area can affect other seemingly unrelated areas. This phenomenon, known as regional interdependence, has transformed how physical therapists approach treatment and rehabilitation.
Understanding Regional Interdependence
Regional interdependence refers to the concept that the function and dysfunction of one region of the body can impact other regions. It challenges the conventional notion of isolated injury treatment by recognizing that the human body operates as an integrated system. For example, an individual experiencing knee pain may also exhibit hip or ankle mobility limitations contributing to the knee pain. In this case, treating only the knee without addressing the related regions may yield suboptimal results.
The Biomechanical Perspective
From a biomechanical perspective, regional interdependence can be understood through the kinetic chain theory. The kinetic chain is a series of joints and segments that work together to move. Dysfunction or limitations in one joint can disrupt the entire chain, leading to compensatory movements and increased stress on other joints. Identifying and addressing these compensatory patterns in physical therapy is crucial for optimal rehabilitation outcomes.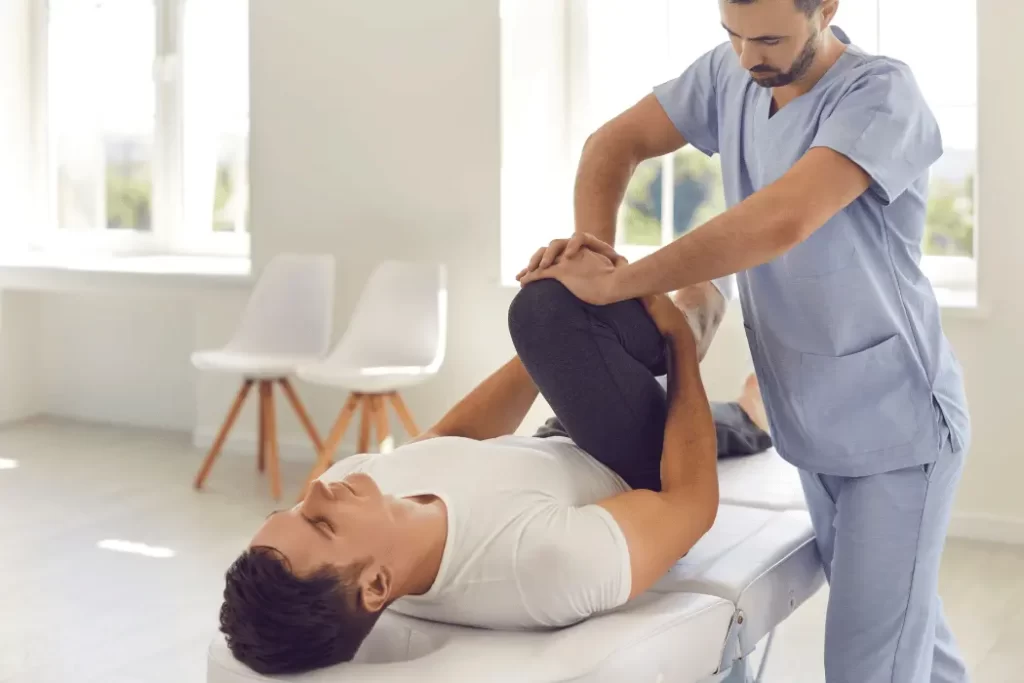 The Neuromuscular Perspective
Beyond the biomechanical aspect, regional interdependence also has a neuromuscular dimension. The nervous system is vital in coordinating movement and controlling muscle activation patterns. When one region is compromised, the nervous system may adapt by recruiting muscles in other regions to compensate. Over time, this compensation can lead to imbalances and dysfunction. Therefore, addressing the underlying neuromuscular factors becomes essential in treating regional interdependence.
Clinical Implications
Physical therapists have incorporated this concept into their clinical practice, recognizing the significance of regional interdependence. Rather than solely focusing on the site of pain, therapists now assess the entire kinetic chain and corresponding regions to identify potential sources of dysfunction. This comprehensive evaluation allows them to develop individualized treatment plans that address the root cause of the problem, not just the symptoms.
Treatment Strategies
To effectively address regional interdependence, physical therapists employ various treatment strategies. These may include:
Manual Therapy: Hands-on techniques, such as joint mobilization and soft tissue mobilization, aim to restore normal movement and reduce compensatory patterns.
Therapeutic Exercises: Targeted exercises improve strength, flexibility, and coordination in the affected and related regions.
Neuromuscular Re-education: Techniques like proprioceptive training and motor control exercises help retrain the nervous system to restore proper movement patterns.
Patient Education: Educating patients about regional interdependence empowers them to understand the interconnectedness of their bodies and actively participate in their rehabilitation process.
Case Study: Shoulder Pain and Thoracic Mobility
Let's consider a case study to illustrate the practical application of regional interdependence in physical therapy. A patient presents with chronic shoulder pain but has not experienced any recent shoulder injuries. Upon evaluation, the therapist noticed limited thoracic spine mobility and poor scapular control. By addressing the thoracic spine restrictions and implementing scapular stabilization exercises, the patient experiences significant improvement in shoulder pain and function.
The Future of Physical Therapy
Regional interdependence represents a paradigm shift in physical therapy, moving beyond the traditional approach of isolated injury treatment. Physical therapists can optimize treatment outcomes and promote long-term wellness by considering the complex interactions between different body regions and systems.
Advancing Research and Evidence
As the understanding of regional interdependence continues to evolve, ongoing research is crucial in advancing the field of physical therapy. Studies exploring the relationships between various regions of the body and their impact on movement patterns can provide valuable insights into treatment strategies and improve patient outcomes. By expanding the evidence base, therapists can refine their clinical practices and provide the best possible care for their patients.
Collaborative Approach to Rehabilitation
Regional interdependence emphasizes the importance of a collaborative approach to rehabilitation. Physical therapists often work closely with other healthcare professionals, such as orthopedic surgeons, chiropractor, and strength and conditioning specialists, to ensure comprehensive care. By sharing knowledge and expertise, these professionals can develop integrated treatment plans that address the interconnected nature of injuries and promote overall well-being.
Prevention and Performance Enhancement
Beyond injury rehabilitation, regional interdependence also plays a significant role in injury prevention and performance enhancement. Physical therapists can help individuals optimize their movement patterns and reduce the risk of future problems by identifying and addressing potential areas of dysfunction or imbalance before they lead to injury. Additionally, athletes and individuals looking to enhance their athletic performance can benefit from understanding and improving regional interdependence to maximize their functional capacity and prevent limitations.
Empowering Patients
An essential aspect of addressing regional interdependence is patient education and empowerment. By educating patients about the interconnectedness of their bodies and the importance of addressing underlying issues, physical therapists can empower individuals to take an active role in their health and well-being. Encouraging patients to recognize the significance of their movement habits and providing them with tools and exercises to maintain optimal regional interdependence can lead to better long-term outcomes and improved quality of life.
Conclusion
Regional interdependence represents a significant shift in physical therapy, moving beyond the isolated injury approach to a comprehensive understanding of the interconnected nature of the human body. By recognizing the biomechanical and neuromuscular relationships between regions, physical therapists can provide more effective treatments, optimize rehabilitation outcomes, and prevent future injuries. As research and understanding continue to evolve, regional interdependence will undoubtedly shape the future of physical therapy, promoting holistic approaches to healthcare and empowering patients to achieve optimal function and well-being.