Start your day with a unique twist on your morning brew. Elevate your coffee experience with the best mushroom coffee, a blend of premium coffee and beneficial mushrooms. Discover how this extraordinary beverage can enhance your total health and fitness. Experience the rich, earthy flavors and enjoy the natural boost of energy without the jitters. Unleash a new level of wellness and vitality with every sip of the best mushroom coffee.
What is Mushroom Coffee?
Mushroom coffee is a type of beverage that combines ground coffee beans with extracts from medicinal mushrooms. These mushrooms are carefully selected for their unique properties and are typically dried and ground into a fine powder. When mixed with hot water, this powder infuses the coffee with the benefits of the mushrooms while adding a rich, earthy flavor to the brew.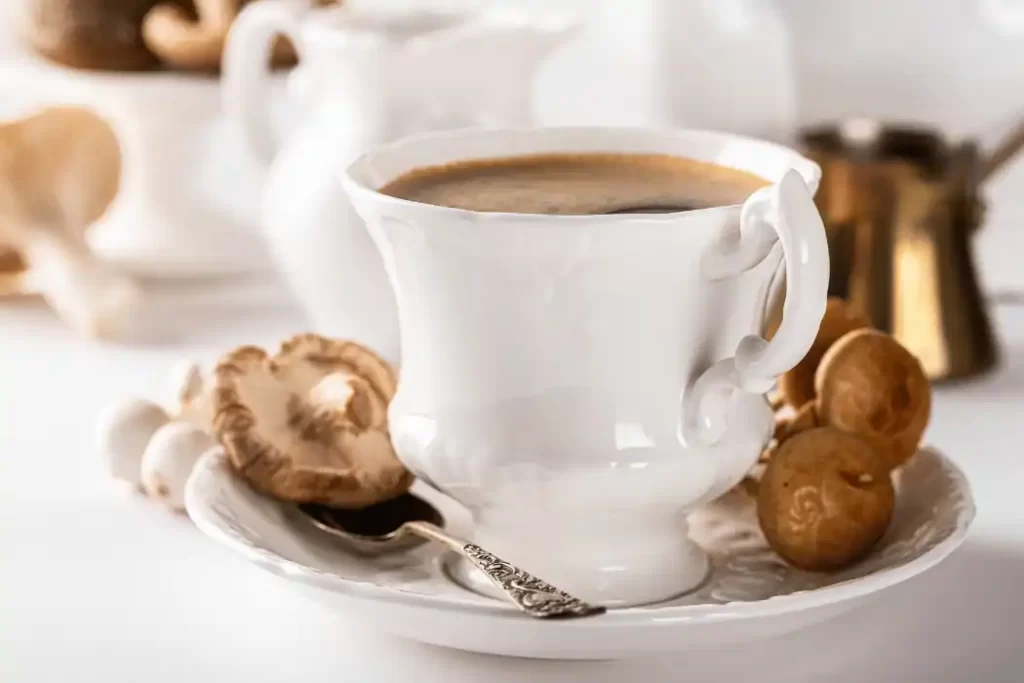 The Health Benefits of Mushroom Coffee
Mushroom coffee offers a range of potential health benefits. The specific benefits can vary depending on the type of mushrooms used, but common advantages include:
1. Immune System Support
Certain mushrooms, such as reishi and chaga, are known for their immune-boosting properties. Regular consumption of mushroom coffee may help strengthen your body's natural defenses.
2. Increased Energy and Focus
The combination of coffee's caffeine content and the adaptogenic properties of mushrooms can provide a balanced and sustained energy boost. Mushroom coffee is often favored by those looking for an alternative to traditional coffee that won't cause jitters or crashes.
3. Antioxidant Power
Mushrooms are rich in antioxidants, which help combat free radicals and reduce oxidative stress in the body. Regularly consuming mushroom coffee may contribute to overall well-being and long-term health.
Popular Types of Mushrooms Used in Mushroom Coffee
Several types of mushrooms are commonly used in mushroom coffee blends. Each mushroom offers unique flavors and potential health benefits. Here are a few popular choices:
1. Reishi Mushroom
Reishi mushrooms are known for their immune-supporting properties and have a slightly bitter taste. They are often used in mushroom coffee blends for their potential to promote relaxation and reduce stress.
2. Chaga Mushroom
Chaga mushrooms have a rich, earthy flavor and are renowned for their antioxidant content. They may help support the immune system and overall wellness.
3. Lion's Mane Mushroom
Lion's Mane mushrooms have a mild, slightly nutty flavor and are often used in mushroom coffee for their potential cognitive benefits. They are believed to support mental clarity and focus.
How to Make Mushroom Coffee at Home
Making mushroom coffee at home is a simple process. Follow these steps to enjoy a delicious cup of this unique brew:
Start by brewing a cup of your favorite coffee using your preferred method.
In a separate cup, mix the desired amount of mushroom coffee powder according to the manufacturer's instructions.
Pour the brewed coffee into the mushroom coffee mixture and stir well to combine.
Add any desired sweeteners or milk alternatives to enhance the taste, if desired.
Enjoy your homemade mushroom coffee and savor the unique flavor and potential health benefits it offers.
Tips for Choosing the Best Mushroom Coffee
When selecting mushroom coffee, consider the following tips to ensure you find the best quality product:
Look for reputable brands that source their mushrooms from reliable suppliers.
Check for third-party lab testing to ensure the product is free from contaminants and of high quality.
Consider the specific health benefits you are seeking and choose a mushroom coffee blend that aligns with your goals.
Read customer reviews and testimonials to get insights into the flavor and overall experience of different mushroom coffee brands.
Incorporating Mushroom Coffee into Your Daily Routine
To fully experience the benefits of mushroom coffee, consider incorporating it into your daily routine. Here are a few ideas:
Replace your regular morning coffee with mushroom coffee for a refreshing and invigorating start to the day.
Enjoy a cup of mushroom coffee as a midday pick-me-up to combat fatigue and increase focus.
Experiment with different flavors and blends of mushroom coffee to find your personal favorite.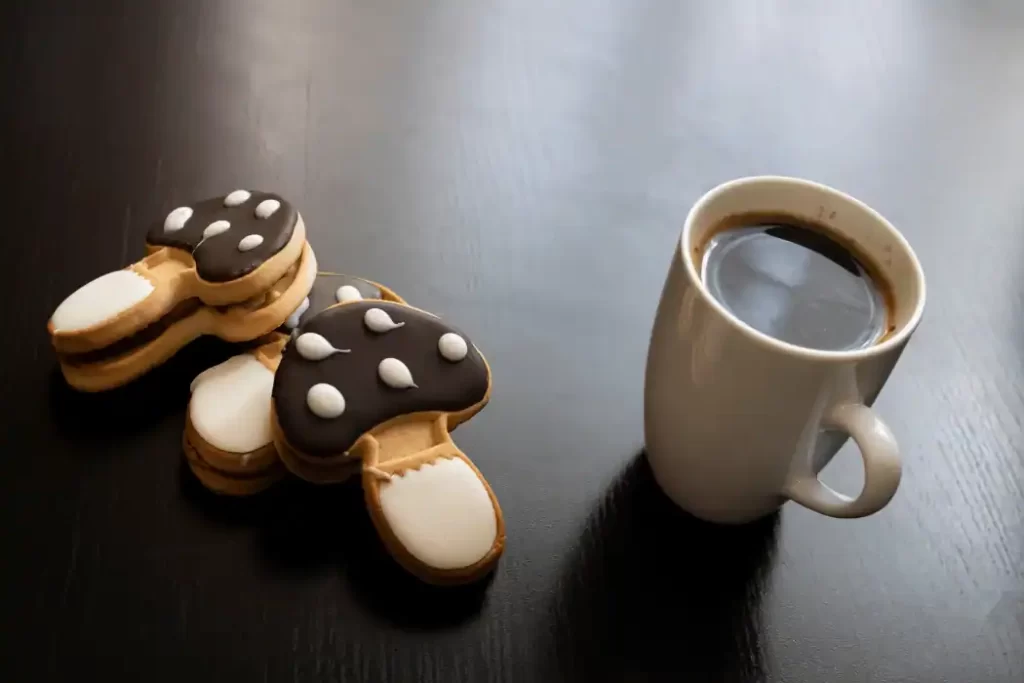 Exploring the Flavors of Mushroom Coffee
Mushroom coffee offers a delightful array of flavors, ranging from earthy and nutty to slightly bitter and robust. Each mushroom variety lends its unique taste profile to the brew. Discovering the diverse flavors of mushroom coffee can be an exciting journey for coffee enthusiasts looking to expand their palate.
Mushroom Coffee vs. Regular Coffee: A Comparison
While mushroom coffee shares similarities with regular coffee, there are a few key differences to consider:
Taste: Mushroom coffee has a distinct earthy flavor compared to the traditional taste of regular coffee.
Caffeine Content: Mushroom coffee typically contains less caffeine than regular coffee. This makes it a suitable choice for those seeking a milder energy boost.
Additional Benefits: Mushroom coffee offers potential health benefits from the mushrooms it contains, such as immune support and antioxidant properties.
Potential Side Effects and Considerations
While mushroom coffee is generally safe for consumption, it's important to be aware of potential side effects and consider individual sensitivities. Some considerations include:
Allergies: Individuals with allergies to mushrooms should avoid mushroom coffee or consult with a healthcare professional before trying it.
Medication Interactions: Certain medications may interact with the compounds found in mushrooms. If you're taking any medications, it's best to consult your healthcare provider before adding mushroom coffee to your routine.
The Future of Mushroom Coffee
As the demand for natural and wellness-focused products continues to rise, mushroom coffee is likely to gain even more popularity in the future. With ongoing research and innovation, we can expect new mushroom varieties, blends, and flavors to emerge, further enhancing the experience of this unique beverage.
Conclusion
Mushroom coffee offers a unique and exciting way to elevate your morning brew. With its potential health benefits, delightful flavors, and growing availability, mushroom coffee has captured the attention of coffee lovers around the world. Whether you're seeking a natural energy boost, immune support, or simply want to try something new, mushroom coffee is worth exploring. Embrace the flavors, experiment with blends, and enjoy the journey of discovering the best mushroom coffee for your taste and well-being.