Are rice noodles gluten free? This is a common question for individuals who follow a gluten-free diet or have gluten intolerance. Rice noodles are a popular staple in many Asian cuisines and are made primarily from rice flour or rice starch. For those seeking gluten-free alternatives, rice noodles can be an enticing option. In this article, we will delve into the world of rice noodles, exploring their ingredients, manufacturing processes, and potential cross-contamination risks to determine whether they are indeed gluten-free. Whether you are managing celiac disease, gluten sensitivity, or aiming for a gluten-free diet as part of your total health and fitness journey, knowing whether rice noodles are gluten-free is crucial for making informed decisions about your dietary habits.
What Are Rice Noodles?
Rice noodles, as the name suggests, are noodles made primarily from rice flour or rice starch. They are a popular ingredient in various Asian cuisines, including Thai, Vietnamese, Chinese, and Malaysian. Rice noodles come in different shapes and sizes, ranging from thin vermicelli to flat wide noodles.
Gluten and Gluten Sensitivity
Gluten is a protein found in wheat, barley, rye, and other related grains. It provides elasticity to dough and contributes to the texture of baked goods. However, some individuals may experience adverse reactions to gluten, such as gastrointestinal discomfort, fatigue, and other symptoms. This condition is known as gluten sensitivity or non-celiac gluten sensitivity.
Celiac disease is an autoimmune disorder triggered by the consumption of gluten. People with celiac disease must strictly avoid gluten to prevent damage to their small intestine and related health complications.
Rice Noodles and Gluten
Fortunately, rice noodles are naturally gluten-free. Since they are made entirely from rice flour or rice starch, they do not contain gluten. This makes rice noodles an excellent alternative for individuals who follow a gluten-free diet due to gluten sensitivity, celiac disease, or personal dietary choices.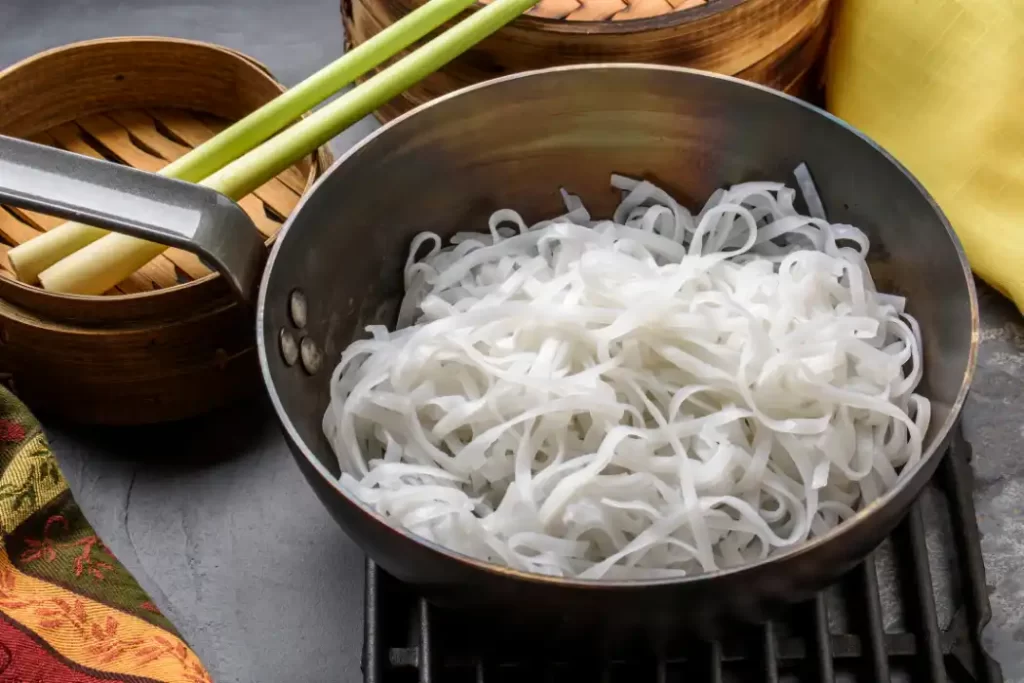 Health Benefits of Rice Noodles
Apart from being gluten-free, rice noodles offer several health benefits. They are low in fat and cholesterol and provide a good source of carbohydrates for energy. Rice noodles are also easy to digest, making them suitable for individuals with sensitive stomachs or digestive issues. Additionally, they are naturally sodium-free and can be a part of a heart-healthy diet when paired with nutritious ingredients.
Cooking with Rice Noodles
Cooking with rice noodles is simple and convenient. To prepare them, start by soaking the noodles in hot water until they become soft and pliable. Drain the water and rinse the noodles with cold water to prevent them from sticking together. Rice noodles can be stir-fried, used in soups, or incorporated into salads. They absorb flavors well and provide a light and delicate texture to dishes.
Popular Rice Noodle Dishes
Rice noodles are a staple ingredient in many beloved Asian dishes. Here are a few popular recipes that showcase the versatility of rice noodles:
Pad Thai: A classic Thai stir-fry dish featuring rice noodles, shrimp, tofu, bean sprouts, and a tangy sauce.
Pho: A Vietnamese noodle soup made with rice noodles, fragrant broth, and various toppings like beef, chicken, or vegetables.
Char Kway Teow: A Malaysian street food favorite consisting of stir-fried rice noodles with shrimp, Chinese sausage, bean sprouts, and eggs.
Chow Fun: A Chinese dish made with wide rice noodles stir-fried with meat, vegetables, and savory sauce.
Are All Rice Noodles Gluten-Free?
While rice noodles themselves are gluten-free, it's important to note that not all rice noodle dishes or products are necessarily gluten-free. Some pre-packaged rice noodle products may contain added ingredients or sauces that contain gluten. It's essential to read labels carefully and choose certified gluten-free rice noodle options or prepare homemade rice noodle dishes using gluten-free ingredients.
Cross-Contamination Concerns
Cross-contamination is another factor to consider when consuming rice noodles. In shared kitchens or restaurants that handle gluten-containing ingredients, there is a risk of cross-contamination. Utensils, equipment, or cooking surfaces that come into contact with gluten may contaminate otherwise gluten-free rice noodles. Individuals with severe gluten sensitivity or celiac disease should be cautious and ensure proper food handling practices to avoid cross-contamination.
Gluten-Free Rice Noodle Alternatives
If you have gluten restrictions or are looking for alternatives to rice noodles, several gluten-free options are available. Some alternatives include:
Bean Thread Noodles: Also known as cellophane noodles or glass noodles, these are made from mung bean starch and are transparent when cooked.
Sweet Potato Noodles: These noodles are made from sweet potato starch and have a slightly sweet taste and chewy texture.
Zucchini Noodles: Zucchini can be spiralized into noodle-like strands and used as a lighter, low-carb alternative to rice noodles.
Experimenting with these alternatives can add variety to your gluten-free culinary adventures.
Conclusion
In conclusion, the question "Are rice noodles gluten free?" can be answered with a resounding yes. Rice noodles, being primarily made from rice flour or rice starch, do not contain gluten, making them a suitable option for individuals following a gluten-free diet or those with gluten intolerance. However, it is important to note that cross-contamination during manufacturing or preparation processes can occur, so it is advisable to check for any potential sources of gluten contamination. By being vigilant and choosing reputable brands that prioritize gluten-free practices, individuals can enjoy the deliciousness of rice noodles while maintaining their gluten-free lifestyle. So, go ahead and savor your favorite rice noodle dishes with confidence, knowing that they are indeed gluten-free.
FAQs About Are Rice Noodles Gluten Free?
1. Are rice noodles safe for individuals with celiac disease?
Yes, rice noodles are safe for individuals with celiac disease as they do not contain gluten. However, cross-contamination should be considered, especially when dining out or using shared kitchen spaces.
2. Can I substitute rice noodles with wheat-based noodles?
If you have a gluten sensitivity or celiac disease, it is not recommended to substitute rice noodles with wheat-based noodles as they contain gluten. Opt for gluten-free alternatives mentioned in the article instead.
3. Are rice noodles low in calories?
Rice noodles are relatively low in calories, especially when compared to wheat-based pasta. However, the calorie content may vary depending on the serving size and the ingredients used in the dish.
4. Can I freeze cooked rice noodles?
While it's possible to freeze cooked rice noodles, their texture may change upon thawing and reheating. It's generally recommended to consume them fresh for the best taste and texture.
5. Where can I find gluten-free rice noodles?
Gluten-free rice noodles can be found in most grocery stores, particularly in the international or Asian food sections. Additionally, online retailers and specialty stores often carry a wide range of gluten-free rice noodle options.