Body piercing has been a popular form of self-expression for centuries. From ear piercing to nose piercing, people have been adorning their bodies with jewelry to reflect their personality and style. One of the newer and trendier piercing styles is spider bites piercing. This piercing involves two piercings on either side of the lower lip, creating a spider bite-like effect. While spider bites piercing can be a unique and edgy way to express oneself, it is important to understand the procedure, aftercare, and potential risks associated with it. Taking proper care of your spider bites piercing is crucial for your total health and fitness, as neglecting the aftercare can lead to infections or other complications that can affect your overall well-being. In this article, we will discuss all you need to know about spider bites piercing, from the procedure to aftercare and jewelry selection.
What is Spider Bites Piercing?
Spider bites piercing involves two separate piercings on either side of the lower lip. This piercing is named after the appearance of a spider bite, as the two piercings are close together, giving the illusion of a spider bite. Spider bites piercing is a type of lip piercing, and the jewelry used can vary from studs to rings.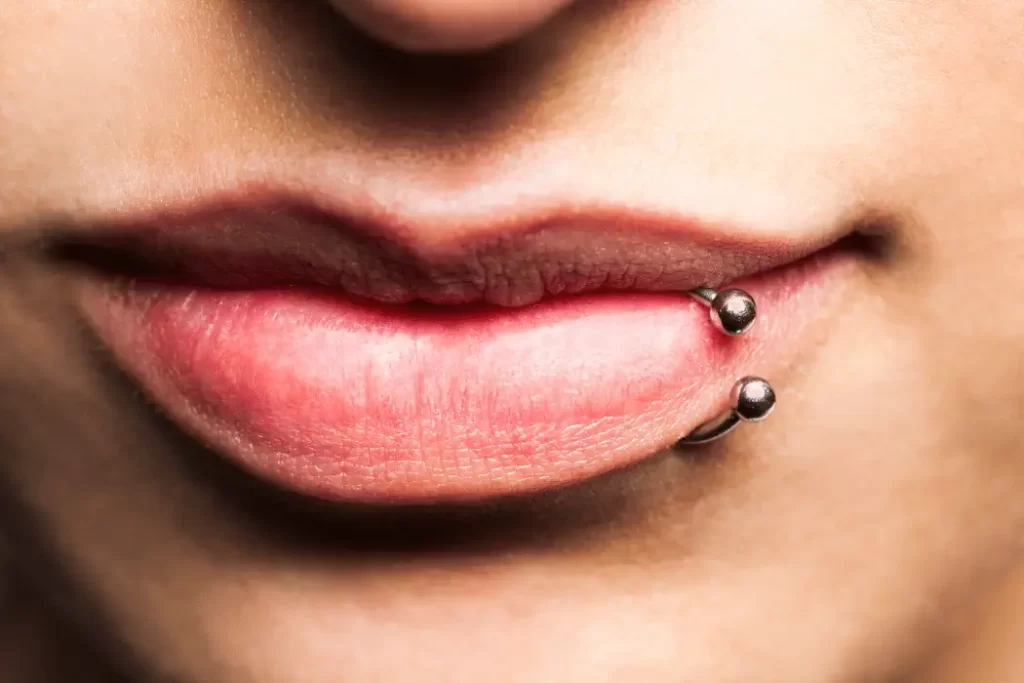 Procedure for spider bites piercing
Preparation
Before getting spider bites piercing, it is crucial to prepare yourself for the procedure. This includes doing research on reputable piercing studios and ensuring that you are in good health. You should also avoid alcohol and drugs before getting the piercing, as they can increase your risk of bleeding.
The Piercing Process
The first step in the spider bites piercing process is marking the placement of the piercings. This is done using a pen or marker and involves marking the exact location where the piercings will be placed. Once the placement is confirmed, the piercer will use a sterilized needle to make the piercings. The piercer will then insert the jewelry into the piercings, and the process is complete.
Read more about The Art of Face Piercings.
Aftercare for spider bites piercing
After getting spider bites piercing, it is crucial to follow proper aftercare to ensure that the piercing heals correctly and does not become infected.
Cleaning
Cleaning the piercing is essential to prevent infection. You should clean the piercing twice a day using a saline solution or piercing aftercare solution. This will help to keep the area clean and reduce the risk of infection.
Avoiding Infections
To avoid infections, you should avoid touching the piercing with dirty hands or allowing others to touch it. You should also avoid sharing utensils, glasses, or other items that may come into contact with the piercing. Additionally, you should avoid swimming, kissing, or engaging in oral sex until the piercing has fully healed.
Healing Time
The healing time for spider bites piercing can vary depending on the individual. However, most people find that the piercing takes around six to eight weeks to heal fully. During this time, it is crucial to follow proper aftercare to ensure that the piercing heals correctly.
Risks and Complications
Like any piercing, there are risks and complications associated with spider bites piercing. These include infection, scarring, and allergic reactions. In rare cases, the piercing can also lead to nerve damage or tooth damage.
Choosing the Right Piercer
Choosing the right piercer is essential to ensure that the procedure is done safely. When choosing a piercer, it is essential to do your research and find a reputable body piercing studio with experienced and skilled piercers. Look for studios that use sterile equipment and follow proper sanitation protocols. Don't be afraid to ask the piercer about their experience and qualifications, and ask to see examples of their previous work. It is also crucial to listen to your gut and choose a piercer who makes you feel comfortable and confident in their abilities.
Jewelry Selection
When it comes to spider bites piercing, selecting the right jewelry is essential for the healing process and overall look. Generally, lip studs or rings are used for spider bites piercing. The size of the jewelry will depend on the individual's anatomy, and it is essential to select jewelry that fits snugly but does not put too much pressure on the piercing.
Materials used for spider bites piercing jewelry include surgical steel, titanium, and gold. It is essential to choose high-quality jewelry to reduce the risk of irritation or allergic reactions. Avoid using low-quality or cheap jewelry, as these can contain harmful metals or alloys that can cause infections or other complications.
It is also essential to consider the style and design of the jewelry. Spider bites piercing can be adorned with various styles, including gemstones, spikes, or plain studs. Choose a style that suits your taste and personality, but ensure that it is appropriate for your workplace or other settings where a bold or flashy piercing may not be appropriate.
Conclusion
spider bites piercing is a unique and fashionable way to express oneself. However, it is essential to consider the potential risks and complications associated with the procedure before deciding to get it done. By choosing a reputable piercer, selecting high-quality jewelry, and taking proper care of the piercing during the healing process, you can ensure a safe and successful piercing experience. With patience, dedication, and attention to detail, you can enjoy a beautiful spider bites piercing that complements your personal style.