The pursuit of back taper perfection goes beyond aesthetics; it is a journey to total health and fitness. A well-defined V-shaped back not only enhances physical appearance but also signifies strength and dedication to one's well-being. If you're on a mission to achieve the perfect back taper, you're in the right place. In this article, we'll explore invaluable tips from fitness experts, guiding you on how to sculpt and strengthen your back for total health and fitness. Embrace this transformative journey and unlock the secrets to achieving the coveted V shape you desire.
Understanding the Back Taper
The back taper, often referred to as the V taper, is a shape of the upper body where the shoulders and lats broaden, creating a V shape that narrows down to the waist. This well-developed back not only adds aesthetic appeal but also plays a vital role in improving posture and supporting functional movements.
The Importance of a Well-Defined Back Taper
A well-defined back taper goes beyond appearances. It contributes to overall physical performance, as a strong back aids in various exercises like deadlifts, pull-ups, and rows. Additionally, a well-developed back supports the spine, reduces the risk of injury, and enhances stability during workouts and daily activities.
Targeted Workouts for Back Taper Perfection
Compound Exercises:
Fitness experts recommend incorporating compound exercises into your routine. Exercises like pull-ups, chin-ups, and lat pulldowns engage multiple muscle groups simultaneously, targeting the back muscles effectively.
Progressive Overload:
To see continuous progress, gradually increase the resistance or weight lifted during your workouts. Progressive overload challenges the muscles and encourages growth, helping you achieve a well-defined back taper.
Cardiovascular Exercises:
Reducing overall body fat is essential to reveal a well-defined back taper. Cardiovascular exercises, such as running, cycling, or swimming, help burn calories and contribute to achieving your back taper goals.
Isolation Exercises:
While compound exercises are crucial, isolation exercises can target specific areas of the back. Moves like dumbbell rows, cable crossovers, and rear delt flyes help focus on particular muscles, enhancing overall back definition.
Form and Technique:
Proper form during exercises is critical to avoid injuries and maximize muscle engagement. Seek guidance from fitness experts or personal trainers to ensure you perform each movement correctly.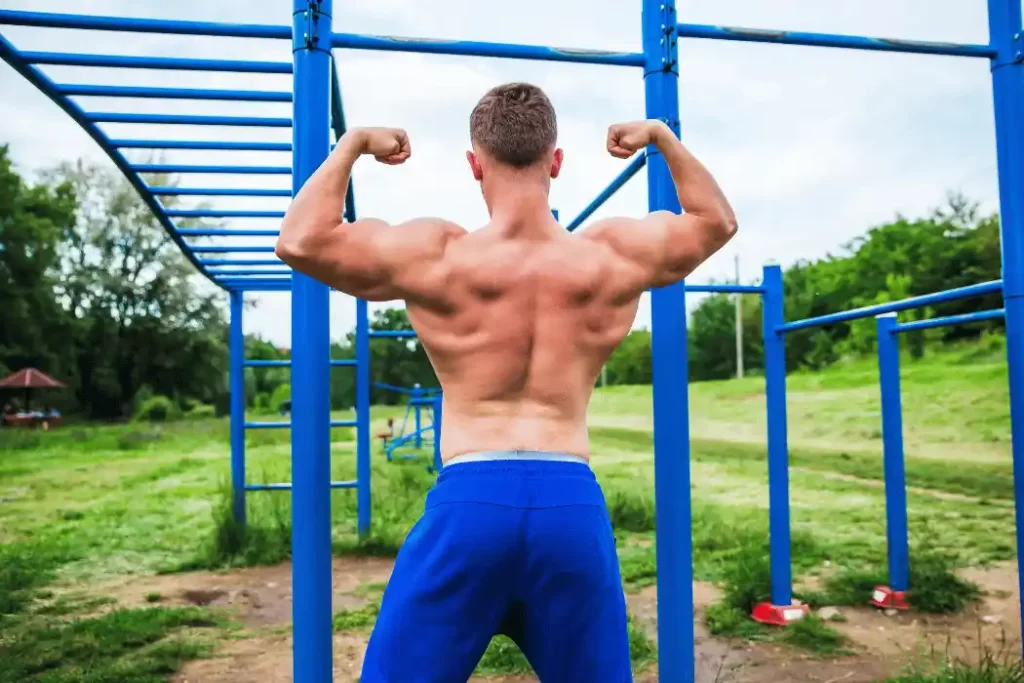 Nourishing the Back Muscles
Balanced Diet:
A well-balanced diet comprising whole foods, lean proteins, fruits, vegetables, and healthy fats is vital for optimal health and fitness. Proper nutrition fuels your workouts and supports muscle growth and recovery.
Rest and Recovery:
Muscles need time to recover and grow. Allow sufficient rest between workouts to give your back muscles the opportunity to repair and strengthen.
Tips from Fitness Experts
Stay Consistent:
Consistency is key to achieving back taper perfection. Stick to your workout routine and be patient with the process, as results may take time to manifest.
Set Realistic Goals:
Set achievable and specific goals for your back taper journey. Celebrate each milestone along the way, and avoid comparing your progress to others.
Find a Supportive Community:
Surround yourself with like-minded individuals who share similar fitness goals. A supportive community can provide motivation, encouragement, and valuable advice.
Listen to Your Body:
Pay attention to how your body responds to workouts. Adjust your routine if necessary to prevent overtraining and injuries.
Seek Professional Guidance:
If you're new to fitness or unsure about your training plan, seek guidance from certified fitness professionals who can design a tailored workout program for your needs.
The Journey to Back Taper Perfection
Achieving back taper perfection is not a destination; it's a journey that requires dedication and consistency. Embrace the process, celebrate your progress, and remember that every step forward brings you closer to your fitness goals.
Conclusion
A well-defined back taper is not only a symbol of physical strength but also a testament to your commitment to overall fitness. With targeted workouts, proper nutrition, and expert advice, you can embark on a transformative journey toward achieving back taper perfection. Embrace the challenge, stay consistent, and enjoy the numerous benefits of a strong and aesthetic V-shaped back.